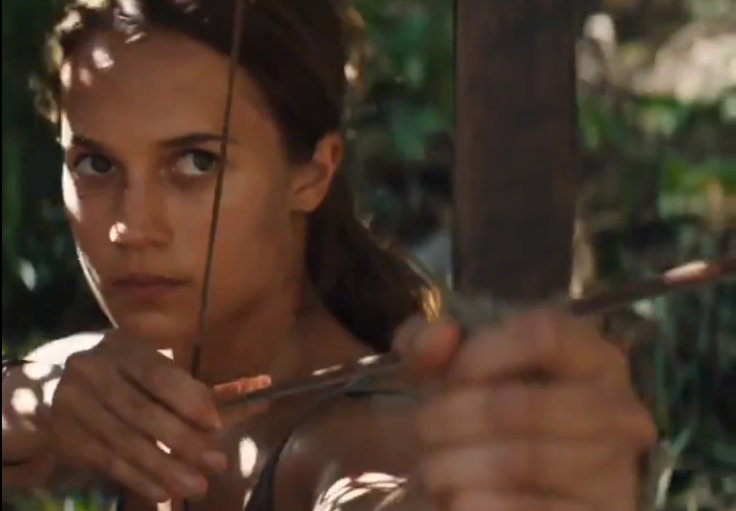 The first poster and teaser for Tomb Raider have been released and show our favourite female English archaeologist-adventurer back to escaping complex temple traps and making her way through the dense jungle. Alicia Vikander takes on the role of Lara Croft in the reboot of the 2001 Angelina Jolie-starrer and the differences are pretty obvious from the get-go.
Gone are the snug shorts and bulky gun belt. In an attempt to make the new film less sexualised, the promotional material shows Vikander in a vest and cargo pants, with no hint at any nude scenes (as of yet). The clip focuses more on Croft running through the jungle, falling into a raging waterfall and dodging various obstacles.
The poster on the other hand feature's the protagonist's weapon of choice — a climbing axe, similar to the one the character uses in the video games on which the film is based.
Vaguely enough, the teaser simply states: "Her legend begins."
The first full trailer for the film is expected to release on 19 September. Click here to view it.
In the meanwhile fans of both, the video game series and the original film, were a little disturbed by the bad photoshop job done on the poster. Oscar-winner Vikander's neck looks unnaturally long and a bit awkward in the artwork and has become the basis for a number of giraffe and ET jokes online.
"I know Vikander got ripped for tomb raider but I didn't know her neck is now twice its length," one person on Twitter pointed out, while another said that "the only way Vikander's neck makes sense in this poster is if the movie was originally TOMB RAPTOR".
Tomb Raider is set to release in cinemas in the UK and US on 16 March, 2018.