The first official images from the latest big screen Tomb Raider adaptation have been released online, offering our best look yet at Alicia Vikander in action as iconic adventurer Lara Croft.
Vikander was cast as Croft after a breakthrough year in 2015, during which roles in acclaimed sci-fi thriller Ex Machina and transgender drama The Danish Girl won her plaudits and awards, including a Best Supporting Actress Oscar for the latter.
The new images were accompanied by a basic plot synopsis courtesy of NME, which reads: "Lara Croft is the fiercely independent daughter of an eccentric adventurer who vanished when she was scarcely a teen.
"Now a young woman of 21 without any real focus or purpose, Lara navigates the chaotic streets of trendy East London as a bike courier, barely making the rent, and takes college courses, rarely making it to class. Determined to forge her own path, she refuses to take the reins of her father's global empire just as staunchly as she rejects the idea that he's truly gone.
"Advised to face the facts and move forward after seven years without him, even Lara can't understand what drives her to finally solve the puzzle of his mysterious death. Going explicitly against his final wishes, she leaves everything she knows behind in search of her dad's last-known destination: a fabled tomb on a mythical island that might be somewhere off the coast of Japan.
"Her mission will not be an easy one; just reaching the island will be extremely treacherous. Suddenly, the stakes couldn't be higher for Lara – who against the odds and armed with only her sharp mind, blind faith and inherently stubborn spirit – must learn to push herself beyond her limits as she journeys into the unknown. If she survives this perilous adventure, it could be the making of her, earning her the name tomb raider."
Tombs, daddy issues - this is a Lara Croft story all right, and one that will draw influence from the more recent, rebooted video games: 2013's Tomb Raider and 2015's Rise of the Tomb Raider.
It will not draw upon either game's story however, instead telling its own tale.
The last two (and to date only) films based on the famous gaming property, were 2001's Lara Croft: Tomb Raider and 2003's follow-up The Cradle of Life, which both starred Angelina Jolie and drew upon the cheesier, 1990s games and zeitgeist.
With an Oscar-winner leading the way, supported by character actor Walton Goggins as the film's villain and Dominic West as Lara's father, director Roar Uthaug is looking to make a film for fans of the modern games and a more grown-up take on gaming's most recognisable heroine.
On taking the role, Vikander told Vanity Fair: "I think people can identify with [Lara] for lots of different reasons, but for me I very much see her as a model for many young women. She's trying to carve out her place in the world and connect her future with her past.
"She also has a fantastic mix of traits – tough, smart, vulnerable, plus she kicks ass! She is also uniquely different to other characters I have taken on previously. It's a lot of fun trying to get into Lara's head and the challenge of getting to grips with such a physical role is an element of this project that I find an absolute thrill."
Called simply Tomb Raider, the film is set for release on 16 March 2018.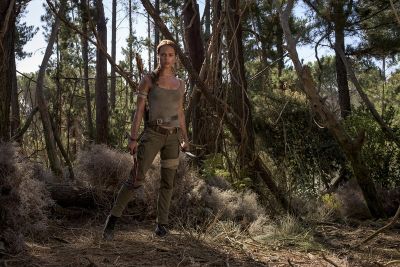 For all the latest video game news follow us on Twitter @IBTGamesUK.