St Patrick's Day is one of the biggest celebrations in the world, with expats from the US to Britain and Hong Kong celebrating Irish culture on 17 March.
It was made an official Christian feast day in the early 17th century. It celebrates the patron saint of Ireland, the arrival of Christianity and Irish culture.
Did you know?
Although the colour green is normally associated with Ireland and St Patrick's Day, blue was considered symbolic of the country for many years. The Irish Presidential Standard remains blue to this day.
St Patrick's Day folklore states the patron saint Patrick used the three leaves of a shamrock to explain the Christian holy trinity: the Father, the Son, and the Holy Spirit. However, experts states this tale was invented much later.
Who was St Patrick?
Saint Patrick, the patron saint of Ireland, is one of Christianity's most widely known figures – but despite his fame, his life remains a mystery.
Two letters in Latin are generally accepted to have been written by Patrick. One is called the "Confession" – which provides details about his life.
It is often assumed Saint Patrick was born in Ireland, but Patrick is said to have been born in northern Roman Britain around 387BC. Calpurnius, his father, was a deacon; his grandfather, Potitus, was a priest; they were both from Banna Venta Berniae. Some have identified the unknown location as South Wales, but others claim it is in modern Somerset.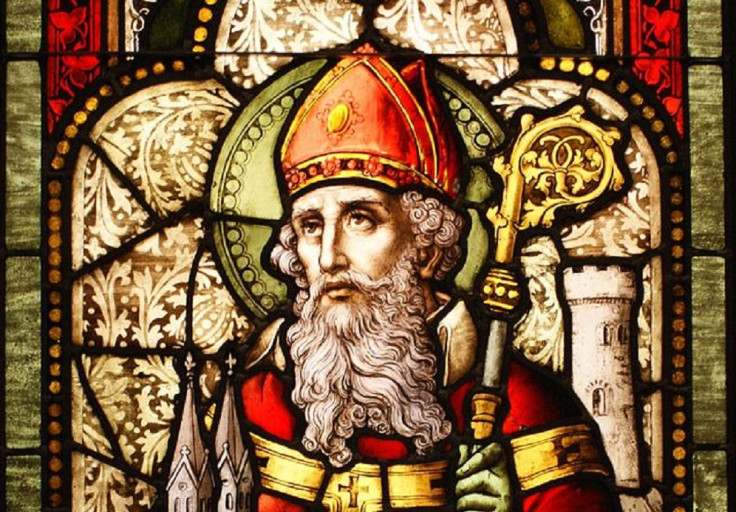 According to the Confession of Patrick, his life changed when he was captured by Irish pirates at the age of 16 and brought to Ireland as a slave – where folklore states he tended to pigs and sheep on Slemish Mountain in County Antrim. During this period, it is said he developed a profound Christian faith.
After six years, Patrick claimed he heard a voice telling him that he would soon go home and that his ship was ready.
Fleeing his captors, he travelled to a port around 200 miles away, where he persuaded the captain of a ship to let him on.
After three days of sailing, they landed in Britain, where Patrick walked for 28 days. Eventually, he returned home to his family before moving to France to study for the priesthood.
Patrick was then ordained a priest and then a bishop. He returned to Ireland and played a big part in converting the country to Christianity. Patrick is said to have died on 17 March in the year 461.
Where are the biggest St Patrick's Day celebrations?
Dublin hosts the largest parade in Ireland, with more than 500,000 expected to turn up this year. Thousands of people attend St Patrick's Day parades across Northern Ireland every year, with the biggest celebrations held in Belfast.
There are around 34.5 million Americans who list their heritage as either primarily or partially Irish. One of the biggest celebrations takes place in New York City, which has a large Irish-born population. The very first St Patrick's Day parade took place in New York in the 1760s. In Chicago, the river is dyed green to mark the day.
One of the largest celebrations in the southern hemisphere takes place in Sydney, Australia. In 2010, the Sydney Opera House turned green to mark the 200th anniversary of St Patrick's Day celebrations.
The London St Patrick's Day Parade is marked on 19 March with marching bands, dancers and floats. It makes it way down Piccadilly from 12pm towards Whitehall.