White Brit armed with machete and grenades threatens to blow up mosques in Facebook video rant
"I'll cut your skin off your body mate and peel you like a f**king orange," he says.
Footage of British man wielding a large machete and what he claims is a grenade while threatening to blow up mosques and stab Muslims has surfaced online in the aftermath of the London Bridge terror attack.
The footage shows the man alone in a house. He has what appears to be a grenade clipped to his T-shirt.
He says: "The is a quick message for Muslims. Terrorists, you can't call yourself terrorists, cowards is what I want to calls you. This is a little message to you guys, yeah."
The man then grabs the object on his T-shirt and gestures with it, saying: "You are running with bombs strapped to you and blowing yourselves up among a bunch of innocent kids. There's nothing terrorising about that."
"Let me tell you. I will get people to run in your mosques with pineapples [a slang term for grenades] ... blow your mosques off this f****** planet, yeah."
He then produces a huge machete from off-camera and waves it, becoming more animated in his speech.
"I will cut each one of your ears off with a sword," he says. "I will cut your fingers, your toes. I will cut you a thousand times until you bleed out.
"And terrorise you, so if you want to see terrorism, come and meet me you cowards. Because you aren't terrorists... [inaudible]... children innocent f****** kids watching concerts.
"I'll cut your heads off. I'll cut your skin off your body mate and peel you like a f**king orange you dirty smelly Muslim c****."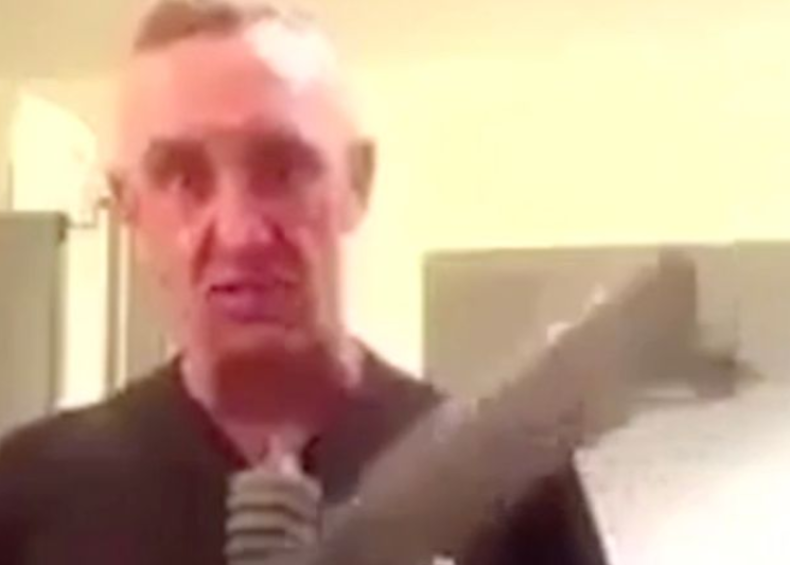 It is unclear when the video was filmed although the man, who has a Liverpudlian accent, makes reference to attacks on "pop concerts", suggesting it may have been shot in response to the MEN Arena bombing on 22 May.
The Liverpool Echo reports that the original Facebook post has been deleted, but the video has been circulated widely on far-right social media groups for some time.
In a statement to the newspaper, Merseyside police confirmed the video had been brought to their attention.
It added: "Officers have launched an investigation and at this time enquiries are ongoing to establish the origins of the video.
"The force takes all reports of hate crime seriously and incidents are investigated by specially trained detectives."