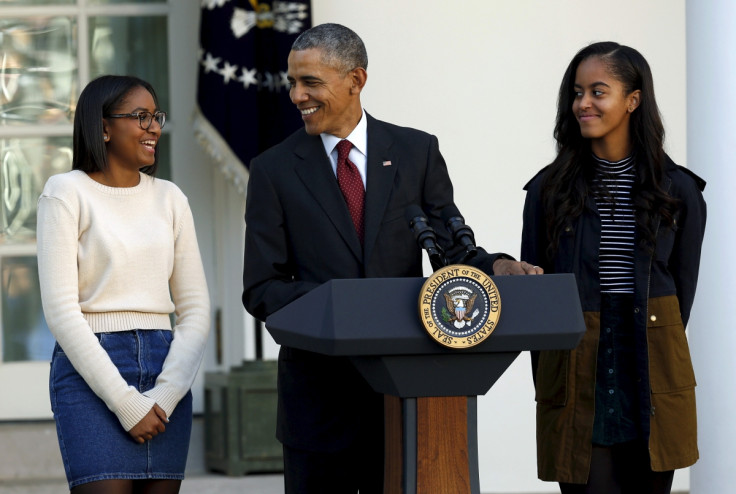 The White House was placed under lock down on Thanksgiving Day after a man draped in a US flag jumped over the fence while President Barack Obama and his family were in residence. Joseph Caputo climbed over the fence on the north side of the complex and stood on the North Lawn.
He has been taken into custody by Secret Service officers. Criminal charges are pending against him, authorities said.
This was the second lockdown in a week at the White House. It was locked down briefly on Saturday (21 November) after a woman tossed an apple core over the South Lawn fence. She was questioned and released.
The White House has been the centre of several security breaches over the recent years. In September 2014, Omar Gonzalez, who was carrying a knife, climbed over the fence on the north side and ran into the building. He managed to run through several rooms before he was tackled and caught.
The Iraq war veteran made it to the first floor of the residence, where Obama and his family had just left by helicopter. Gonzalez, who reportedly suffered from post-traumatic stress was a former army sniper. A cache of 800 rounds of ammunition and a machete was found in his car nearby.
In March this year, 34-year-old Curtis Smith climbed a stone wall in the southeast side of the complex. He was immediately apprehended and taken into custody. Smith was later killed by law enforcement officers in an unrelated incident at a courthouse in Pennsylvania when he slashed a deputy sheriff with a knife.
The Wall Street Journal said the White House perimeter fence was upgraded in summer to add a short "bike rack" fence and sharp spikes over the perimeter fence. Obviously it was not enough to stop Caputo.