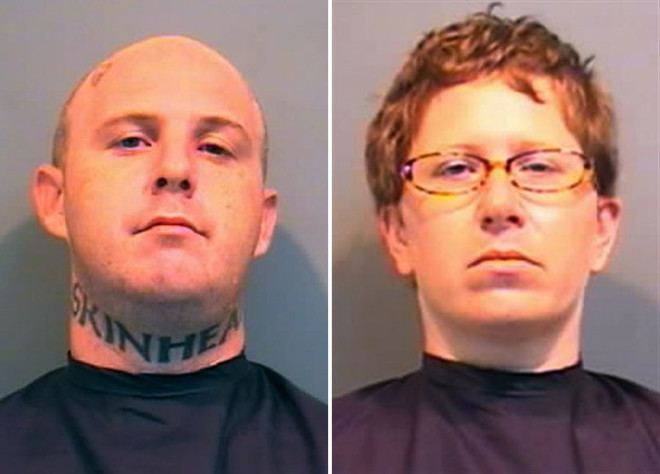 A white supremacist couple in North Carolina, who killed a registered sex offender and his wife, showed little remorse as they were jailed for life and shouted: "That's what child molesters get."
Jeremy and Christine Moody were handed down maximum life sentences after admitting to killing Charles Parker, 59, and his wife Gretchen Parker, 51, in July 2013.
They appeared unrepentant during their court hearing on Tuesday and even kissed after being sentenced.
Initially Jeremy, who suffers from bipolar disorder and schizophrenia, apologised to the judge and asked for "mercy" on them both so they can grow old together.
But after Union County Judge Lee Alford announced their life sentences, Jeremy shouted: "Child molesters do not deserve to live. They got exactly what they deserved. If I had to do it over again, I'd kill more."
Then as he left he added: "See you perverts later. That's what child molesters get."
As Christine, who suffers from Post-Traumatic Stress Disorder and borderline personality problems, left the court, she said: "My lawyer made me say that I repented. It was a lie," and added that "may they (the victims' families) die also".
She also said the pair had a third victim in mind before they were caught in connection with murdering the Parkers.
The couple claimed the killings had nothing to do with their connections to the local supremacist group, Crew 41, which targets sex offenders.
Union County Sheriff David Taylor told the Southern Poverty Law Center, which campaigns against white supremacist groups, that Jeremy shot both of the victims while Christine slit their throats.
The court heard both defendants were sexually abused as children and that made them want revenge against sex offenders.
Parker's family did not hear Jeremy's insults as they were being escorted out of the courtroom.
Brenda Franklin, Parker's sister said: "He got what he deserved. He would kill again if he was let out. He can say whatever he wants. He's dying in prison."
According to reports, Charles Parker was a listed sex offender following a sexual assault case involving a child in 1991 and was convicted in 2003 of third-degree criminal sexual conduct involving a 31-year-old woman.