A Ukrainian postgraduate student has admitted to murdering an 82-year-old Muslim pensioner and plotting to cause explosions at three mosques in the West Midlands.
Pavlo Lapshyn, 25, admitted to stabbing grandfather Mohammed Saleem as he returned home from evening prayers in Small Heath, Birmingham on 29 April. He also pleaded guilty to planting three explosive devices near mosques in Walsall, Wolverhampton and Tipton.
Lapshyn, from the eastern Ukrainian city of Dnipropetrovsk, is expected to receive life when he is sentenced on 25 October.
The court heard how self-confessed racist Lapshyn - who was in Britain on a year-long visa - would undoubtedly have gone on to cause more explosions had he not been caught.
He had only been in the UK for five days by the time he killed Saleem by stabbing him three times in the back.
Lapshyn moved to Birmingham from Ukraine on 24 April, after securing a work placement at software firm Delcam PLC.
Described as a competent bomb maker, police found bomb making devise in Lapshyn's home which he wanted to use to "increase racial conflict" in the area.
Det supt Shaun Edwards, from the West Midlands Counter Terrorism Unit, said: "We found part-made devices in Lapshyn's room - plus chemicals and bomb-making equipment - so it is clear he planned to place further devices with the intention of killing or maiming innocent members of the public.
"In interview Lapshyn stressed he was acting alone - not part of a wider cell or influenced by any group - and was keen to take credit for masterminding and carrying out the attacks. Our work is on-going with Ukrainian authorities to understand more about his background and we have officers in Ukraine probing his history."
Asst chief const Marcus Beale, of West Midlands Police, added Lapshyn was a "dangerous and evil and completely ill-informed man".
Lapshyn planted the first of his improvised explosive devices (IED) - hidden in a child's lunchbox - by gates outside Walsall's Aisha Mosque in Rutter Street on 21 June. Seven days later he detonated an IED on a roundabout near Wolverhampton Central Mosque.
His attack on the Kanzul Iman Masjid mosque in Binfield Street, Tipton, on 12 July was the first time he used nails and debris in his device.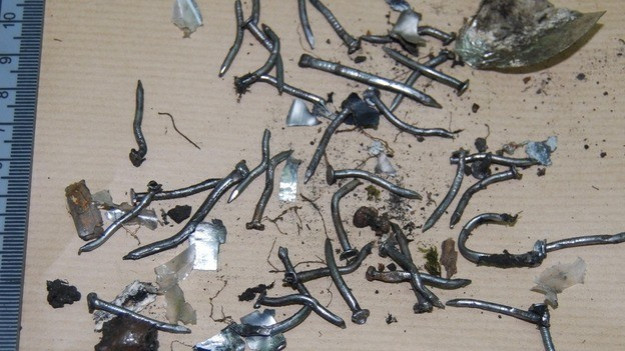 Edwards added: " [Lapshyn ] placed this near the mosque's car-park with the intention of hitting worshippers as they arrived for prayers - thankfully the service had been put back an hour so the mosque was largely deserted when the bomb went off."
When police examined his computer following his arrest, they found he had extensively researched extremist right wing and white supremacist groups before the attacks.
Lapshyn admitted to police that the purpose of the Tipton Mosque attack was "to commit a terrorist act".
Speaking outside court, Saleem's daughter Shazia Khan said: "Our dad was a lovely, kind man who left prayers for the last time that night. He did not do anything to deserve this horrific killing other than being a Muslim.
"He was targeted simply because of his faith. His beard and his clothing represented who he was. Pavlo chose to kill him that night with only that intention in mind.
"Hopefully he will get the sentence that he deserves and he will never be able to commit crimes like this again."
Police have said they do not believe he was attacking in retaliation to the murder of Lee Rigby. His first mosque attack took place a month after the Fusilier was killed in Woolwich and the attack on the Tipton mosque occurred on the same day as his funeral.
In total, Lapshyn pleaded guilty to murdering Saleem, carrying out a series of acts with the intention to commit acts of terrorism and two separate offences of unlawfully and maliciously causing an explosion with the intent to danger life or cause serious injury to a person or property.