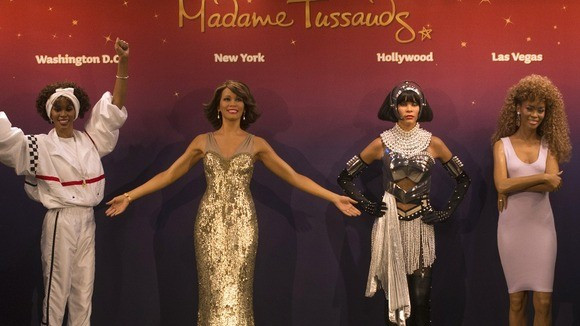 Four waxwork figures of superstar Whitney Houston have been unveiled at Madame Tussauds just days before the anniversary of her death.
The figures, which cost a total of $1.2m to make, were officially unveiled at the museum's New York venue.
The singer's former manager and sister-in-law, Pat Houston, and her brother Gary were on hand for the tribute.
"We were extremely honoured when Madame Tussauds approached us about doing four figures of Whitney from different points in her 30-year career. This is something we are excited to do for the fans," Pat Houston said.
The dummies were made in London and each will go on display in a different Amercian city.
The 1988 Houston performing I Wanna Dance with Somebody will be shown in Las Vegas; New York will exhibit the singer from a 2009 photoshoot for her final studio album; the version of her performing the Star-Spangled Banner at the 1991 Super Bowl goes to Washington DC's Tussauds waxworks; and Hollywood will get the model of her in her 1992 movie The Bodyguard.
"Thank you so much for honouring my daughter, who was my life," her mother, Cissy, told Tussauds staff. "I have two wonderful sons, who I love dearly, but my baby was my baby. You know how that is, mothers."
Houston was found dead in her Beverly Hills hotel suite in February 2012.
The coroner ruled that the she accidentally drowned in a bathtub because of heart disease and chronic cocaine use.