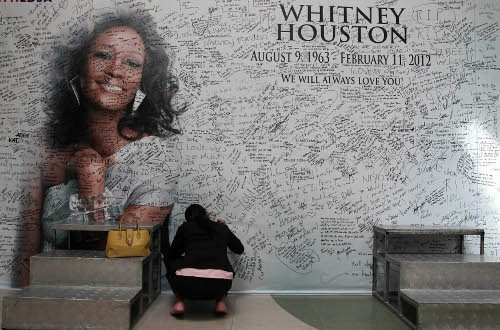 Legendary singer Whitney Houston's private collections will be put on auction in March, it has been reported.
The Houston items include a pair of earrings she wore in the blockbuster movie The Bodyguard and a floor-length black velvet dress.
The black dress is valued at $1,000 but is expected to fetch more. The starting price for the vest she wore in The Bodyguard has been pegged at $400 and that of the faux-pearl earrings at $600.
The items will be part of the Hollywood memorabilia such as Charlie Chaplin's cane, Clark Gable's jacket from Gone With the Wind and Charlton Heston's staff from The Ten Commandments, the Associated Press reported, quoting Darren Julien, the celebrity auctioneer.
"For people who are fans of Whitney Houston and never would have had a chance to meet her and never got to talk to her, these are items that literally touched a part of her life. They are a way to relate to her or be a part of her life without having known her," he added.
People can participate in the auction by bidding online, by phone or in person during the Hollywood Legends auction on March 31 and April 1.
Whitney Houston, 48, was found dead on February 11 at the Beverly Hills Hilton Hotel and her body was buried on February 18.