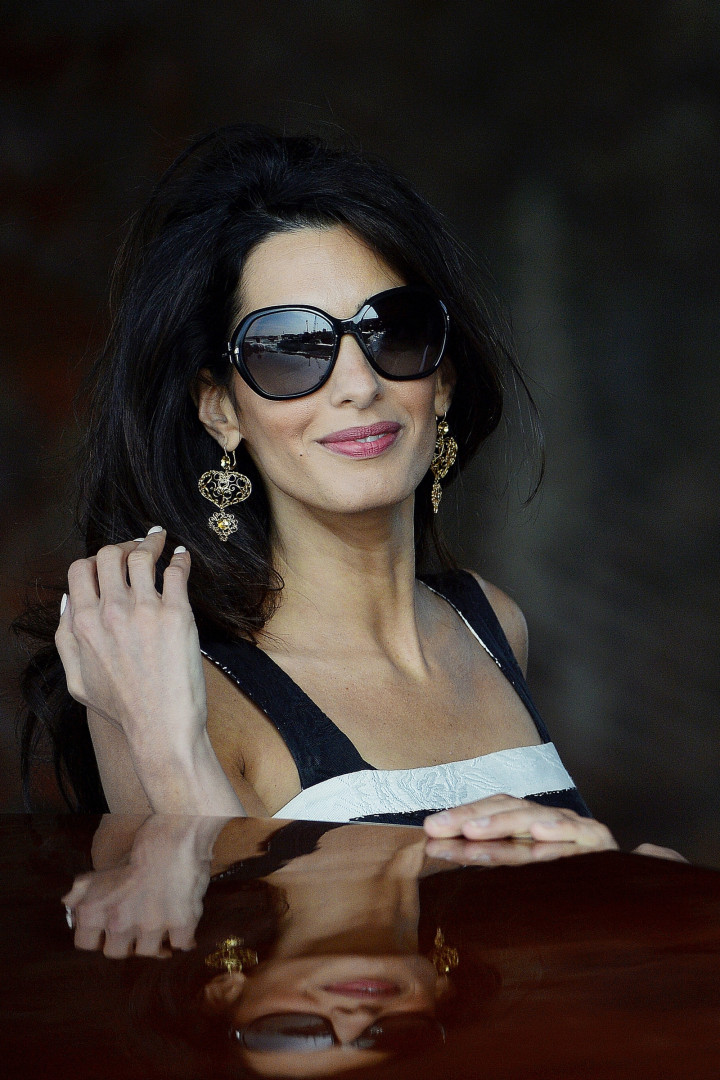 The world's most famous desirable divorcee George Clooney is marrying Amal Alamuddin on Monday, 6 October. But what do we know about her?
Before her life begins as the second Mrs Clooney, endlessly photographed by paparazzi and discussed in the tabloids for the designer clothes she wears, Alamuddin was better known as a legal eagle. Or as Clooney calls her "the hottest human rights lawyer in the world".
Amal Ramzi Alamuddin is a 36-year-old British-Lebanese lawyer specialising in international law, criminal law, human rights and extradition. She is a barrister at Doughty Street Chambers in London and is fluent in Arabic, English, as well as French.
She was born in Beirut, Lebanon in 1978. During the 1980s, when the Lebanese Civil War was at its height, Alamuddin's family left for London and settled in London's Gerrards Cross.
Her mother, Baria, is the foreign editor of the Pan-Arab newspaper al-Hayat. Her father, Ramzi, is a retired professor of business studies at the American University of Beirut. He returned to Lebanon in 1991 and is from a prominent Lebanese Druze family.
Alamuddin attended Dr Challoner's High School in Little Chalfont, Buckinghamshire. She then went on to study at St Hugh's College, Oxford where she graduated with a Bachelor of Arts in Jurisprudence (Oxford's equivalent to the LLB) in 2000.
In 2001, she enrolled at New York University Law School to study for the Master of Laws degree. Following her studies at NYU, she practiced at Sullivan & Cromwell in New York City for three years. In 2004, she worked at the International Court of Justice and was one of two NYU-sponsored clerks at the Court.
Before becoming a barrister at Doughty Street Chambers in London, she worked in the Office of the Prosecutor at the UN Special Tribunal for Lebanon and at the International Criminal Tribunal for the former Yugoslavia.
High-profile clients
She has been involved in cases representing the state of Cambodia and also Colonel Gaddafi's former Libyan intelligence chief Abdallah Al Senussi. Professor William Schabas, who worked with Alamuddin on the case told the Evening Standard: "She is very attentive to complex situations, and remains on top of a huge amount of material. She is a scholar as well as a barrister."
Alamuddin also represented the former prime minister of Ukraine Yulia Tymoshenko and WikiLeaks founder Julian Assange. She is also an adviser to the King of Bahrain in connection with the Bahrain Independent Commission of Inquiry.
In August 2014, Alamuddin was selected for the UN's three-member commission to look into possible violations of the rules of war in Gaza during the Israel-Gaza conflict. She ruled herself out of accepting the role, citing pressures of work. She stated: "There are various reports published today stating that I have been appointed as one of three members of the UN Commission of Inquiry for Gaza.
"I am horrified by the situation in the occupied Gaza Strip, particularly the civilian casualties that have been caused, and strongly believe that there should be an independent investigation and accountability for crimes that have been committed.
"I am honoured to have received the offer, but given existing commitments – including eight ongoing cases – unfortunately could not accept this role."
Whether Alamuddin can continue in her job as a barrister remains to be seen, but if she does, the court cases will be much better attended – by paparazzi and tabloid journalists who will be giving in-depth reports of what couture dresses, designer handbags and shoes that Mrs Clooney is favouring this season.
Watch the video of Amal Alamuddin being asked if her wedding will be bigger than Kim Kardashian's