Who is Beatrix von Storch? German AfD MP blocked on Twitter for 'barbaric, gang-raping Muslim' rant
The politician lashed out at the community after Cologne police posted a New Year message in Arabic.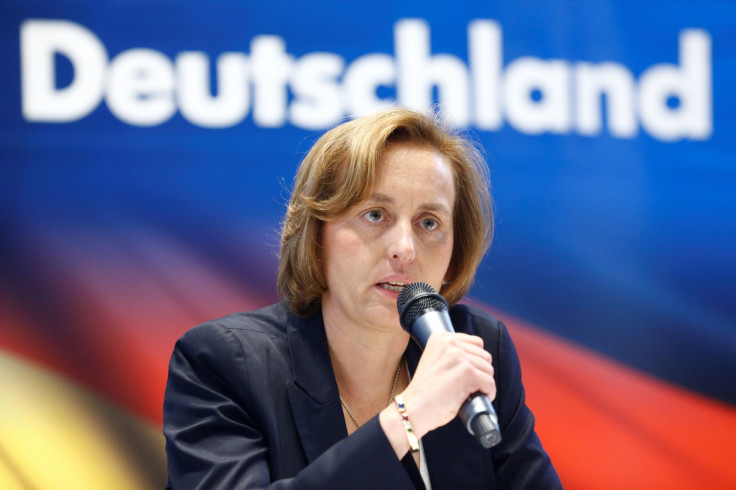 The deputy leader of Germany's Alternative for Germany (AfD) party was temporarily suspended on Twitter and Facebook after she posted a hateful rant against the Muslim community. Beatrix von Storch came under fire after she lashed out at the Cologne police for sharing a New Year's Eve message in Arabic.
The police department had posted the message on its Twitter account in a variety of languages including English, French and German. However, von Storch took particular offense to the Arabic version. "What the hell is happening in this country? Why does an official police site tweet in Arabic," she wrote.
The alt right politician went on to accuse the police of trying to "appease" the "barbaric, gang-raping Muslim hordes of men".
Following her tweet, the MP's Twitter account was suspended on 1 January for 12 hours. On being reactivated, she posted that Facebook had also chosen to censor her. "This is the end of the constitutional state," she wrote.
AfD leader Alice Weidel voiced support for her party member by criticising the police as well as the social media sites. "The year begins with the censorship law and the submission of our authorities in front of the imported, marauding, groping, beating, knife stabbing migrant mobs, which we should get used," she posted on Facebook. "The German police now communicate in Arabic, although the official language in our country is German."
Authorities are now considering whether von Storch should be charged with incitement to hatred. Cologne police have already filed a criminal complaint, with Press Officer Thomas Held explaining that it was a normal procedure. "If we suspect that it could be a criminal offense, we are legally obliged to do so," he said.
"Our intention is to reach people," he added about the Arabic message. "Some people are wondering about it, but for us it's a normal way to spread information."
Von Storch's remarks come months after Germany enacted a stringent law against hate speech which would also target social media sites that do not take down "illegal" posts.
Who is Beatrix von Storch?
The granddaughter of Hitler's finance minister Lutz Graf Schwerin von Krosigk, Beatrix von Storch is a descendent of the former ruling family of Oldenburg. Holding the formal title of Duchess of Oldenburg, the 46-year-old's lineage can be traced back to the royal houses of Denmark and Norway, the deposed royal house of Greece, the deposed imperial Russian family Holstein-Gottorp-Romanov, and Charles, Prince of Wales.
Having started off her career as a banker, von Storch went on to become a lawyer before entering politics. By 2014, she was a Member of European Parliament representing AfD and has been vocal about the party's anti-immigrant stance.
In June, she voiced support for using firearms against women and children who were trying to cross the German border. The question was put forth to her on Facebook and while she answered "yes", she later claimed that her computer mouse had slipped.
She has been equally vocal about eradicating Islam from Germany. "Islam does not belong to Germany. We are in favour of religious freedom of course, but Islam is claiming political power, and this is what we deny," she told BBC Hardtalk in October.