An unlikely star has emerged from this year's I'm A Celebrity. Kiosk Keith, as he is known, makes but a fleeting appearance on each episode. But even in those few minutes he seems to have made his presence strongly felt, as every night viewers eagerly wait for the Dingo Dollar Man to show up on-screen with his now legendary blank face.
So who exactly is Kiosk Keith and why is he stealing the limelight from the host of celebs including British boxing champ Amir Khan? Here's everything we know about him so far:
Who is Kiosk Keith?
In the show, Kiosk Keith never speaks on camera and has become famous for his brooding demeanour. This mysterious personality has made him an enigma to a growing fan base.
Very little is known of Kiosk Keith's life apart from the fact that he is the quiet star of I'm A Celebrity.
His Twitter bio gives fans little insight into his life. It reads: "Aussie LAD born and bred.
Employee of the month at The Outback Shack. I'm the biggest Celebrity in I'm a Celebrity."
It's hard to comment on the "Employee of the month" claim since it's really a one man job but he just might be right about that last statement.
What is Kiosk Keith's job?
Kiosk Keith's job is to man the Outback Shack where winners of the day's Dingo Dollar challenge come in to collect treats.
But the stern moustached man isn't going to let the celebs have it easy. Before treats like marshmallows and chocolate dipped fruits are handed out contestants have to answer a question.
He calls up the camp's phone booth and if the celebs back in camp answer the question correctly, they are handsomely rewarded, if not, Kiosk Keith is more than happy to slam the Shack shutter on their faces.
This has become the classic Kiosk Keith move and while the celebs return without goodies, the viewers seem to love watching him shut them out.
Outside the I'm A Celeb world, however, it's anyone's guess what the Aussie's job is.
Which celeb has been flirting with Kiosk Keith?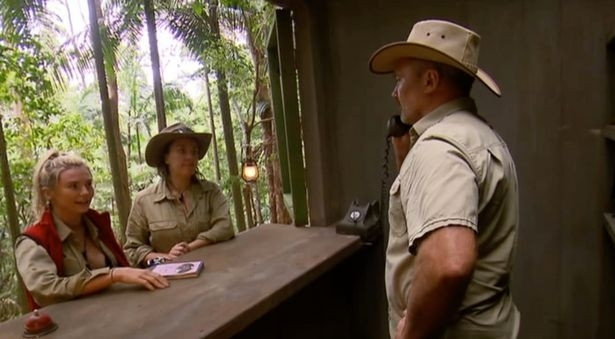 During a Dingo Dollar challenge, Made In Chelsea star Georgia 'Toff' Toffolo found an erotic novel titled Mr Lover, supposedly written by Kiosk Keith.
When she reached the Outback Shack, she put the book on the counter and asked Kiosk Keith to sign it. "For a man of few words, you're very descriptive," flirted Toffolo.
Afterwards Ant and Dec were found joking about how Kiosk Keith had written a series of erotic novels titled Fifty Shades of Kiosk Keith, Tie Me And My Kangaroo Down and a pop-up book Into The Australian Bush.
Is Kiosk Keith related to Kiosk Kath?
A few days ago, fans of the show were left disappointed as Kiosk Keith called in sick. Apparently he had a problem with his bowels and had to be replaced by Kiosk Kath instead.
At the beginning of the show Ant and Dec announced the sad news and wished him a speedy recovery. "We have big news today, another celebrity has left the jungle. He's one of the biggest stars on our show, yes, Kiosk Keith has had to have a day off," said Dec.
Ant continued: "He's assured us he'll be back very shortly as soon as he's dealt with some complicated personal issues."
After which Dec revealed: "He's got the thrupenny bits."
Whether Kiosk Kath is related to Kiosk Keith wasn't reported.
The viewers sorely missed the jungle legend but some also suspected that maybe he was just making an excuse to stay indoors on the rainiest day in camp so far.
Has anyone seen Kiosk Keith outside of I'm A Celeb?
Kiosk Keith has not been spotted outside of the reality show. But Ant and Dec and posted a picture of the trio on their Instagram account with the caption: "Fun #imacelebrity wrap party. Kiosk Keith was the life and soul of it. See how crazy he goes when he's not at the shack. D"
While both Ant and Dec are smiling in the picture, Kiosk Keith, of course, has the trademark poker face on.
What is Kiosk Keith saying on Twitter?
Even though he doesn't speak on the show, Kiosk Keith does have a lot to say on Twitter: