A globally renowned member of sporting royalty such as LeBron "King" James requires little introduction. With three championships to to his name, 13 All-Star appearances, seven combined regular-season and Finals MVP awards, two Olympic gold medals and millions of adoring fans worldwide, basketball's most influential superstar has reigned supreme over the American sporting landscape for more than a decade.
Here is everything you need to know about a man who stands behind only the inimitable Michael Jordan in the list of greatest talents ever to grace the court.
LeBron James fact file
Full name: LeBron Raymone James
Date of birth: 30 December, 1984
Home town: Akron, Ohio
Country: USA
Net worth: $275m
Height: 6'8
Weight: 250lbs
Family: Married Savannah Brinson in 2013, three children
Nickname: King James
High school: Saint Vincent-Saint Mary
Current team: Cleveland Cavaliers
Years pro: 14
Twitter: @KingJames
Instagram: kingjames
Facebook: LeBron James
Who is LeBron James?
A native of Akron, Ohio, James moved around the projects a lot as a child and, as a result, missed almost 100 days of school as a fourth-grader. Introduced to American football by coach Bruce Kelker, with whom he and mother Gloria lived for a little while, he demonstrated his extraordinary athletic gifts with the pigskin before adapting quickly to basketball after finding stability with the Walker family.
James' ability to thrive on both the hardwood and the gridiron was showcased perfectly during his high-school days. Attending Saint Vincent-Saint Mary High School, he earned all-state honours as a talented wide receiver in both his sophmore and junior years before deciding to focus on his primary sport.
In four seasons under influential coach and fellow STVM Hall of Famer Dru Joyce, arguably the most talked about phenomenon in the history of high-school sport - famously dubbed "The Chosen One" by Sports Illustrated - helped the Fighting Irish to win three state titles and one national basketball championship.
James bypassed college altogether and jumped straight from school to the pros aged 17. Having already signed a $90m (£73m) deal with Nike, he was unsurprisingly selected by the Cleveland Cavaliers with the first overall pick of the 2003 NBA draft. He was to become a pariah in that same city 10 years later when he announced in an ill-advised and arguably narcissistic television special entitled "The Decision" that he would be taking his talents to Miami and forming a Heat super team alongside fellow "Big Three" members Dwyane Wade and Chris Bosh.
The jilted Cavs fans who chose to burn their number 23 jerseys in very public displays of indignation were given cause for regret when, four seasons later, James sensationally announced that he was heading back home. While he returned from South Beach with two rings, playing the key role in ending Cleveland's 52-year sports title drought ranks among his most memorable achievements.
Professional career highlights
Selected by the Cleveland Cavaliers with the first pick of the 2003 NBA draft.
Becomes the first Cavaliers player to win Rookie of the Year honours in 2003-04.
Wins a bronze medal with Team USA at the 2004 Olympic Games in Athens.
Makes the first of 13 NBA All-Star appearances in Denver in 2005. He was named as the All-Star Game MVP in both 2006 and 2008.
Wins the 2007-08 NBA scoring title after finishing the season with 2,250 points at an average of 30 per game.
Helps Team USA to bounce back from Athens disappointment and win men's basketball gold at Beijing 2008.
Becomes the first Cleveland player in history to win the regular-season MVP award in 2008-09 after leading the Cavaliers to a franchise-best record of 66-16.
Becomes only the 10th player ever to win back-to-back regular-season MVP awards in 2010.
After weeks of drama and speculation over his unrestricted free agency, James, appearing on infamous television special "The Decision", announces that he will be joining the Miami Heat rather than re-signing in Cleveland.
Makes his first NBA finals appearance in 2010-11, where the Heat lose 4-2 to the Dallas Mavericks.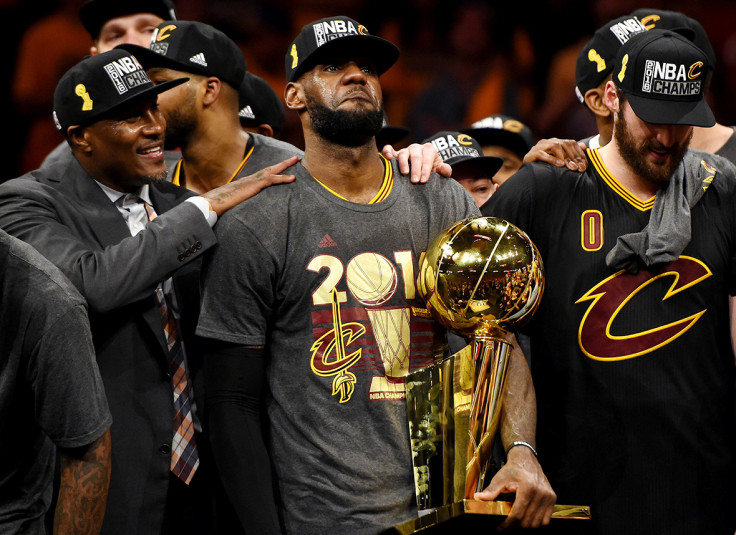 Named both regular-season and finals MVP en route to winning his first championship in 2012 as the Heat ease past the Oklahoma City Thunder in five games.
Helps star-studded Team USA roster to win their latest Olympic gold medal with victory over Spain at London 2012.
Repeats his double MVP feat in 2013 and wins his second title in three years as the Heat see off the San Antonio Spurs in a thrilling seven-game series.
Makes his fourth consecutive Finals appearance in 2014, but the Heat lose Spurs rematch 4-1.
Opts out of his Heat contract in 2014 and reveals that he will be returning to Cleveland, who later sign Kevin Love to glay alongside James and Kyrie Irving.
Becomes the first player in NBA Finals history to lead both teams in points, assists and rebounds for the entire series in 2015 as Cleveland lose in six games to the Golden State Warriors.
Voted as Finals MVP for the third time in his career after leading Cleveland's successful effort to become the first team ever to overcome a 3-1 deficit against the Warriors. It was the Cavaliers' maiden NBA title and the city's first sports championship since 1964.
What is LeBron James' net worth?
With an estimated fortune of $275m, James, who juggles a stellar basketball career with his interests as a businessman and philanthropist, came 39th - six places behind Kobe Bryant - on a December 2016 Forbes list of America's richest entrepreneurs under 40. After signing a new three-year contract with the Cavaliers last summer worth a cool $100m, only Cristiano Ronaldo and Lionel Messi ranked above him in the business magazine's record of the world's highest-paid sportspeople.
Forbes reported his annual salary to be $23m, with a further $54m earned in endorsements. They also claimed that James had earned a total of $595 million (not adjusted for inflation) since being drafted in 2003.
Who sponsors LeBron James?
In December 2015, James signed a lifetime deal with long-term partner and signature shoe-makers Nike that agent Maverick Carter has hinted could eventually be worth more than $1bn. He also has several endorsement deals with the likes of Coca-Cola, Upper Deck and Beats.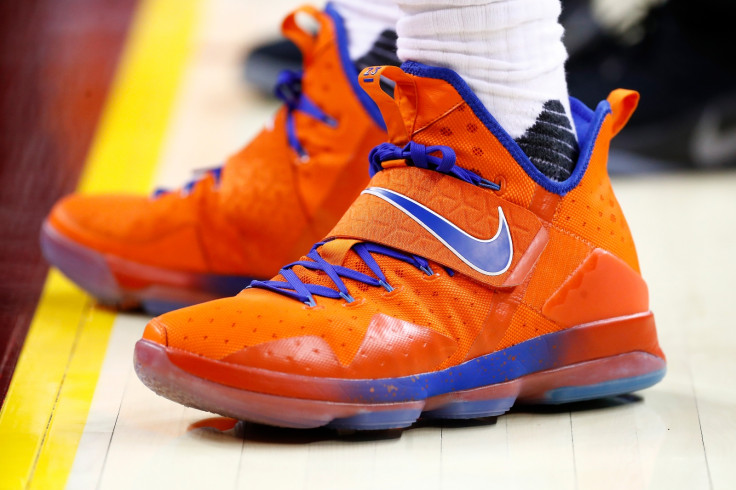 What is LeBron James' position?
Technically a small forward, James' sheer ability and versatility means he can fulfill a variety of positions. He has also spent plenty of time at power forward and becomes the primary ball-handler when Irving is off the floor.
Which hand does LeBron James use?
While primarily a right-handed shooter, James writes with his left. Ambidexterity has long since been added to his lengthy list of physical gifts.
Which colleges recruited LeBron James?
James previously stated at a 2013 pep rally that, had he opted to complete a year of college, he would have stayed local and gone to Ohio State University in Columbus. Buckeyes coach Urban Meyer, then working as Notre Dame's wide receiver guru, unsuccessfully tried to recruit him as a football player.