Human rights organisations have sounded alarm bells as the vast majority of individuals suspected to have orchestrated or committed war crimes and crimes against humanity in the Central African Republic are still "roaming free".
The country erupted into chaos when Muslim rebel group Seleka toppled then-president François Bozizé's government in March 2013.
Following the coup, the existing largely Christian vigilante anti-Balaka self-protection groups organised themselves to fight against the Seleka, carrying out large-scale reprisal attacks against Muslim civilians and sparking a sectarian civil war.
Several high-profile leaders have been arrested, but none have ever been prosecuted. IBTimes UK looks at Patrice Edouard Ngaissona, a former minister turned leader of the armed movement.
How did Patrice Edouard Ngaissona rise to power?
Ngaissona was the former Youth and Sports Minister under the rule of Bozizé, a Christian. But following the President's overthrow and President Michel Djotodia's accession to power, Ngaissona took on the leadership of the anti-Balaka, whose moniker derives from the made-up word balaka (a mix between the words 'machete' and 'AK 47' in Sango language), effectively meaning "machete-proof" or "invincible".
Following the 2013 coup d'etat, anti-Balaka numbers grew as former members of the national army, who had disbanded, joined the self-defence groups. Once the President of the country's football federation, Ngaissona's men terrified the civilian population, particularly Muslims.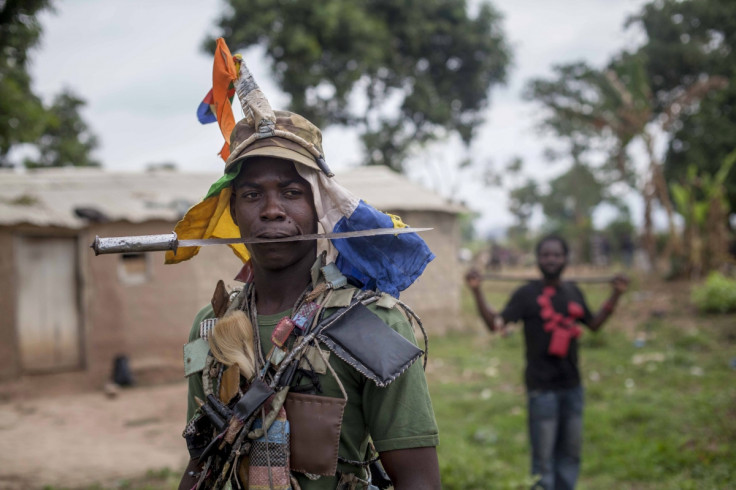 In 2013, Djotodia issued an arrest warrant issued against Ngaissona for his alleged involvement in serious crimes. A year later, the transitional authorities made further public allegations against him, including his personal criminal responsibility for "crimes against humanity and incitement to genocide".
How did Patrice Edouard Ngaissona run for president?
After the anti-Balaka successfully removed Djotodia and the Seleka fighters from the capital Bangui in December 2013, Ngaissona became the "political coordinator" for the anti-Balaka Christian militia groups.
The national transitional government installed in January 2014 called for national elections, and Ngaissona was among 44 presidential hopefuls. However, the transitional constitutional court ruled that Ngaissona – and Bozizé -–were not eligible to stand ahead of the 2015 elections.
Despite allegations against the troops, anti-Balaka militias held a general assembly in Bangui in October 2016, following which Ngaissona told reporters: "The anti-Balaka will keep their weapons until the disarmament, demobilisation, reintegration and repatriation programme is effective".
The only action taken so far against the anti-Balaka co-ordinator was an interrogation by the Prosecutor Office in Bangui, but Ngaissona was released after agreeing he would appear when requested by the security forces, the investigative judge or the office of the prosecutor. Amnesty International says Ngaissona has never since been summoned to appear.
As of December 2016, Ngaissona remained free of investigation and continued to be the go-to man between the national authorities, the international community and the anti-Balaka forces.