In March, Alwaleed Bin Talal was unhappy.
He had not lost money on an investment made through his world-beating company Kingdom Holdings. His plans for the world's tallest building, the 1km-high Kingdom Tower, had not hit a setback. No, what was making him unhappy was Forbes magazine undervaluing his personal fortune.
The publication, famous for its rich list, had estimated Bin Talal's wealth to be $20bn (£12.8bn), making him the 26<sup>th richest person in the world.
The Saudi Prince said he would cease working with Forbes and refused to provide them with any information about his future finances. Bin Talal poured his scorn into a letter to the magazine's editor Steven Forbes, accusing the publication of underestimating his wealth to "disadvantage Middle Eastern investors and institutions".
Bin Talal said he was worth $30bn, making him the tenth richest man in the world. When on 1 July, Bin Talal, flanked by his son and daughter, promised to give away his wealth to charitable causes, he said he was worth $32bn.
Aside from his extravagant wealth and ostentatious philanthropy, the Saudi prince, grandson of King Abdul-Aziz Alsaud, the founder and first ruler of Saudi Arabia, is an anomaly in Saudi Arabian society and the family that rules the country.
Unlike his siblings, Bin Talal holds no government position and has dedicated his life to generating staggering amounts of money and, latterly, giving it away.
In 1979, Prince Alwaleed formed Kingdom Establishment for Commerce and Trade, the company that would, in 1996, become Kingdom Holding Company. His first investments were in real estate in Riyadh, and in 1988 the company acquired a controlling stake in the ailing United Saudi Commercial Bank (USCB).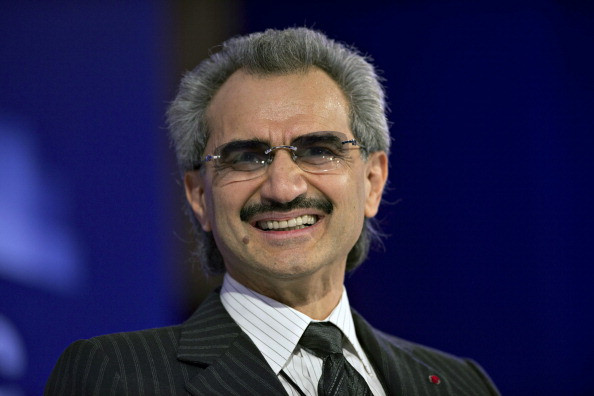 Despite snubbing Forbes the magazine has twice described Bin Talal as one of the world's leading investors. His portfolio now includes a list of household names. As well as media investments, including a $300m stake in Twitter, Kingdom Holding has interests ranging from the Euro Disney theme park and Apple to the Four Seasons hotels and Citigroup.
His pet projects include the Kingdom Tower in Jeddah, the first structure in the world to reach higher than one kilometre, costing $1.23bn, and his charity work through the Alwaleed foundation. Before the prince vowed to give all of his wealth to the foundation he had already been making grants and donations to over 60 countries, from Afghanistan to Zimbabwe, totalling more than $2.4bn over the past 30 years.
His best-known charitable gesture is one he regretted suggesting, however. He made headlines for the wrong reasons in April this year, when he promised to buy Bentleys for Saudi pilots who had taken part in the air bombing of Yemen.
The 60 year old was accused of callousness and subsequently withdrew the offer.
The Saudi prince has said he will begin handing over his fortune to his Alwaleed Philanthropic Foundation over the coming years.
The $32bn will include Prince Alwaleed's stake in Kingdom Holding, as well as his assets outside Saudi Arabia.
In a statement read to reporters at a conference in Riyadh, the prince said his pledge "will help build bridges to foster cultural understanding, develop communities, empower women, enable youth, provide vital disaster relief and create a more tolerant and accepting world".