Are you aware that Apple is tracking your location by default as long as you have an iPhone, iPad or iPod Touch running iOS 7? If not, then consider yourself warned.
The electronics giant is using your mobile network signal, Wi-Fi, Bluetooth and GPS to determine where you are, and no, it's not so it can find your iPhone if you've lost it.
There are a whole bunch of new settings in the system services section on iOS 7 settings – namely Location-Based iAds, Popular Near Me, Traffic, Wi-Fi Networking and Frequent Locations.
What does Apple want to know my location for?
Simple: to gather user data which it can then use to advertise "geographically relevant apps".
The Popular Near Me function sends locations of where you have purchased or even just used apps to Apple's database, although the data is anonymous.
Apple can then use your location to serve iAds as well as apps, because, as we all know, location-based advertising on mobile devices is fast becoming the next big money driver.
Frequent Locations is another feature whereby your iPhone keeps track of all the places you have been to recently, as well as how often you visited these locations in order to learn which places are significant to the user so that the device can then offer personalised services.
Apple says that this service does not send any data to Apple without your consent. That's a relief, but it's still a massive drain on your smartphone battery to have all these services going on in the background.
So how do I turn these location services off?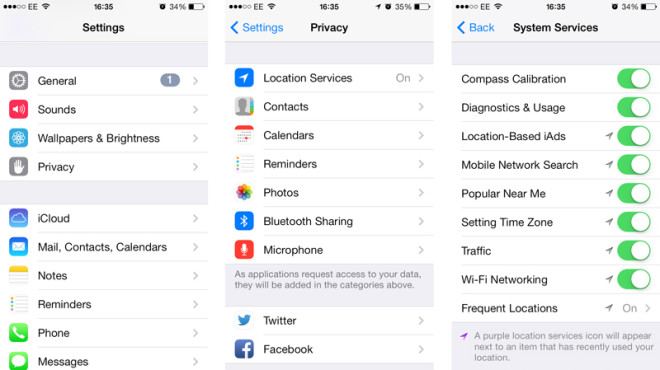 To turn these settings off, you need to go to Settings > Privacy > Location Services. Once in Location Services, scroll to the bottom of the menu to System Services, just below Find My iPhone.
If you don't want to receive ads or have Apple know anything about you, then turn off "Location-Based iAds" and "Popular Near Me" by sliding the slider to the left.
You will also want to turn Frequent Locations to "Off".
If you would like your device to notify you each time Location Services requests your location, then instead of turning the options off, you can also turn the Status Bar Icon on.