Why Dutch election results mean Geert Wilders lost, but populism hasn't
Support for populist parties has not diminished despite failing to deliver blow to political stability.
Far right leader Geert Wilders may be rejoicing at the result of being the second party in the country after the Dutch election, but the seats his party gained are well below expectations.
Wilders' Freedom Party (PVV) has won at least 20 seats and around 13% of the votes. This is an improvement from the 2012 election, and the far right party has won in traditionally left-wing strongholds, but overall the PVV failed to outdo its previous record of 24 seats and 15.4% of the preferences obtained in 2010.
"Super proud of all our voters, more than one million Dutch people! Thanks!" Wilders wrote from his Twitter account, adding "12 years since its establishment, the PVV is now the second party in the Netherlands! Great!!"
But having won more than 2 million votes, Prime Minister Mark Rutte's ruling Freedom and Democracy (VVD) party is by far the country's largest. Wilders failed in its aim to dethrone Rutte and show he is a force to be reckon with, as a government coalition is very much possible without his party's involvement.
"Wilders claims victory, but this is not what he planned to do or expected. Yes, he won seats but he lost the election" said Dutch political expert Eddy Habben Jansen, director of the think tank ProDemos.
New populists on the block
Compared to 2010, Wilders faced more competition for the pocket of populist votes from two new parties, the nationalist For the Netherlands (VNL) party and the anti-establishment Forum for Democracy party (FvD). VNL failed to gather enough support to enter parliament with only 0.4% of the preferences, but FvD won almost 2% of the votes, resulting in two seats.
Supported by nationalist fringes of the Dutch academia, FvD represents a more sophisticated, intellectual and respectable version of Wilders' populism. Like Wilders, FvD party leader Thierry Henri Phillipe Baudet believes in borders and the nation-state, the subject of one of his academic publication, and is strongly anti-EU, having led the campaign for the successful referendum against the EU free trade deal with Ukraine. "They positioned themselves as anti-establishment and as a decent alternative for Wilders," Jansen said.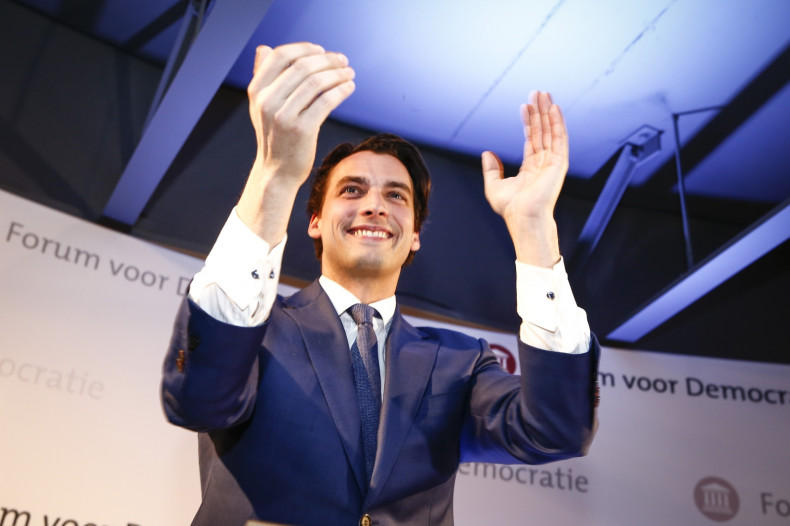 The party's second MP is Theo Hiddema, a lawyer and former PVV supporter who has been quoted in the Dutch media saying the religion of Islam is "scary", defining himself as an "angry white man" and commenting over "the pleasant appearance" of one of the few female party leaders in the country, Party for the Animals' (PvdD) Marianne Thieme.
According to Jansen, populism is not defeated. While there has not been a landslide victory or a major change in the political landscape, support for populist parties has remained stable. "The first populist party entered parliament in 2002, they got 26 seats," Jansen explains, referring to the List Pim Fortuyn that won a landslide victory in 2002 following the assassination of their anti-Islam leader Pim Fortuyn. "This election populist parties won [a combined] 22 seats so it is not a massive movement towards populism," Jansen added.
Turkey-Netherlands row
Wilders also failed to capitalise on the diplomatic row between the Netherlands and Turkey, sparked by the Dutch government refusal to allow two Turkish ministers from addressing a rally on 11 March. This prompted Turkish President Recep Tayyip Erdogan to deride the Netherlands and its citizens as "Nazi remnants", "fascists" and a "banana republic".
Wilders tried to blame the crisis on Prime Minister Mark Rutte during a heated head-to-head debate, but attempted the flame the row while Rutte firmly demanded Erdogan's apologies refusing to escalate the situation.
"It was difficult for Wilders to find a position that was even stronger than Rutte's, it was mission impossible," said Jansen.
While the PVV have won enough seats to provide for a strong opposition to the government, and continue with their anti-Islam, anti-immigrant and anti-EU platform, his overall defeat means that his threat to EU stability has been diminished.
There cannot be a referendum on EU membership in the country due to the electoral and referendum laws, and without enough support in parliament Wilders can do little to stir the Netherlands away from Europe.