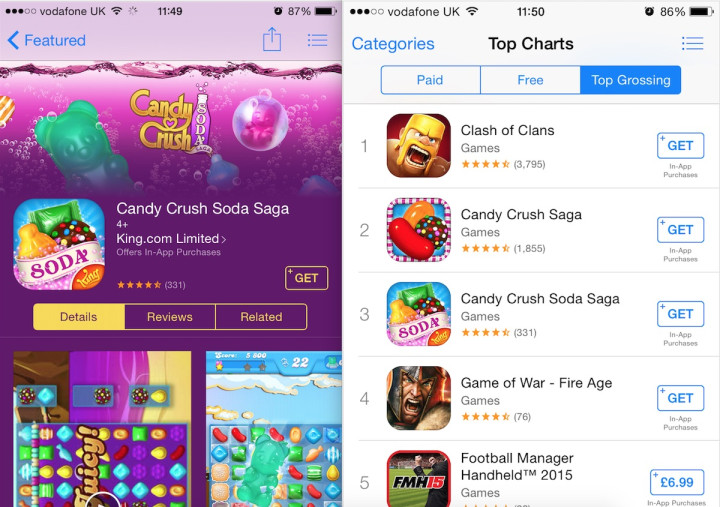 Apple has changed the way it offers free content in the App Store, replacing the word 'Free' with 'Get' in an apparent bid to appease consumers misled by apps which use the 'freemium' sales model.
Paid-for apps and games display their prices just as before, but those which previously had 'Free' written across their download button now say 'Get', with 'In-App Purchases' written in small writing underneath. Despite the change, the App Store still displays charts for top 'Free' apps.
Although Apple hasn't offered an explanation, the general consensus is that this change addresses the fact that games which are initially free - like Candy Crush Saga and Real Racing 3 - encourage gamers to spend money to progress through them more quickly, and therefore aren't entirely free.
Former Sex Pistols singer John Lydon admitted this week to spending £10,000 on in-app purchases for iPad games, while the free Kim Kardashian: Hollywood game for iOS is expected to take $200m (£130m) in sales this year alone, thanks to selling 'star packs' for $59 each.
'Because the best things in life are get'
The freemium business model has drawn criticism, with Apple settling a $100m class-action lawsuit in 2013 by offering refunds to customers who were left out of pocket by downloading expensive in-app content. Such downloads, which cost up to £69 each, are often purchased by children playing games on an iPhone or iPad which has automatic access to their parents' credit card.
By way of settling the lawsuit, and a dispute with the US Federal Trade Commission, Apple added an "offers in-app purchases" label to qualifying apps. During the settlement, Apple emailed 28 million App Store customers and received 37,000 claims for refunds.
But the new 'Get' button hasn't been welcomed by everyone. The button is translated in some countries, like Russia, to 'Download', while some users complained that to 'get' an app makes it sound like they are re-downloading something they've already installed.
As one MacRumors forum user put it: "Because the best things in life are get."