Police in Russia have raided 25 homes and shrines in Moscow and St Petersburg and arrested people linked to the notorious Aum Shinrikyo cult.
The group gained infamy when it launched a deadly sarin nerve gas attack on the subway in the Japanese capital Tokyo, which killed 13 people and left thousands suffering from its debilitating consequences.
The cult's leader Shoko Asahara along with 12 of his followers got death sentences and it was thought to have gone to ground. However, after the arrests in Russia of 10 people, plus 44 Russians in Montenegro being investigated over links to the group, questions are being raised as to why they have resurfaced in Europe.
How did it start?
Its founder is Chizuo Matsumoto, who was born in 1955 into an impoverished family in the south of Japan. Glaucoma robbed him of his sight in one eye and he was partially blind in the other.
A 2011 report carried out by the US-based Center for a New American Security (CNAS) reported how Matsumoto became an acupuncturist in the city of Kumamoto, but moved to Tokyo in 1977 to further his education.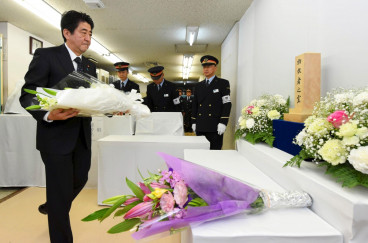 He developed an interest in New Age religions and turned to yoga, mysticism, Buddhist texts and the writings of Nostradamus. He opened a yoga school in Tokyo in 1984 called Aum Inc where he lectured how he was a source of spiritual power.
By 1985, he would make public pronouncements that he was a sacred warrior charged with saving the world and how he would restore "original Buddhism" to the world. He changed the group's name to Aum Shinsen no Kai which means "Aum Mountain Wizards".
CNAS reported how Matsumoto would use the theme of Armageddon to urge people to join his organisation which he said needed to acquire at least 30,000 members. In July 1987, he changed the name again, this time to Aum Shinrikyo (Aum Teaching of Truth) and he himself took on the moniker of Shoko Asahara.
What does it believe?
The focal point of the group is its reverence for Shoko Asahara who claims he is the first enlightened one since Buddha, although their beliefs are a hotchpotch of musings from Hinduism and Buddhism with a few apocalyptic Christian prophecies thrown in.
His claim that only his acolytes would survive the apocalypse which he predicted would occur in 1996 or between 1999 and 2003 attracted many who were young smart university graduates, often from well-to-do families looking for meaning in life.
The Council on Foreign Relations stated he claimed the US would be behind the end of the world by starting World War 3 with Japan.
The attacks
Sarin is a nerve agent developed by Nazi scientists in the 1930s and is said to be 500 times more toxic than cyanide gas.
On 20 March 1995, cult members put a liquid form of sarin into packages that resembled lunch boxes. They were then placed on five cars that converged at Kasumigaseki station, which is near government offices.
The Japan Times reported Asahara as giving the reason for the attack as being a "holy attempt to elevate the doomed souls of this world to a higher spiritual stage".
They punctured the packages with umbrellas, leaving commuters gasping on the ground with blood pouring from their noses and mouths. The New York Times reported how the group had tried to carry out at least nine other attacks in the years leading up to the Tokyo attacks.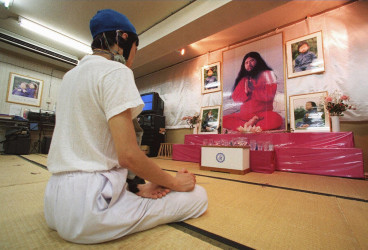 Why Russia?
Asahara's successor Fumihiro Joyu was the head of the group's Moscow operation. His aim was to shift the group's violent history to a more spiritual base and he changed the name Aleph. He formed a smaller group in 2000 called Hikari no Wa (Circle of Rainbow Light).
The group is said to have set up operations in the former Soviet states after the collapse of the USSR in the early 1990s.
Of the 58 people linked with the cult who were arrested in Montenegro in late March 2016, 43 were from Russia, seven from Belarus, three from Ukraine and one from Uzbekistan. The latest Russian raids targeted the homes and places of worship of suspected members of the group, and come after the deportations from from Montenegro.
"During the searches, we found and seized ritual items and electronic media. In addition, we discovered addresses of several more active participants of the cult – 11 in Moscow and 14 in St Petersburg," Irina Volk, a spokeswoman of the Russian Ministry of Internal Affairs said on Tuesday 5 April.
Ten people were arrested in the St Petersburg raids, reported TASS news agency.
Prosecutors believe that the cult has been actively recruiting new members and soliciting donations in Russia, where it already has an estimated 30,000 members.
This has been discussed widely in the Russian media, with Roman Lunkin from the Institute of Religion and Law telling the Vzglyad newspaper that many in the country are attracted to the concept of a single religion headed by a strong leader. "This is somewhat similar to the New Age movement and Asahara tried to be a Supreme teacher who carries a unified truth for society."
Another expert, Alexei Grishin, told the Russian publication that the cult's attraction, like that of many totalitarian group such as Isis, is that it offers a kind of brotherhood and a "striving for personal improvement."