Like a couple who have nurtured their children through the difficult teenage years and finally seen the last one fly the coop, Nokia has found a new lease of life through ventures new. The announcement that is has acquired French smart health and Internet of Things hardware maker Withings is the latest move to come from the disparate remains of the erstwhile world-conquering phone business.
The €170m (£131m, $192m) all-cash deal is expected to close early in the third quarter of this year.
Nokia's new beginnings
After being ignominiously stripped of what was once the world's largest phone business (and what a poisoned chalice that turned out to be for buyers Microsoft, forced to take a $7.6bn write down of the deal) in 2014, Nokia is adventurously splashing its cash into pastures of exciting emerging technologies. The acquisition of 200-strong Paris-based Withings, for what looks like a bargain price, will reassure investors and shows Nokia's twin-track path forward.
Alongside its traditional, if somewhat staid, networking business, Nokia has its own department of fun, Nokia Technologies — its advanced technology and licensing business. It was this division behind today's announcement. It was also the division behind the innovative 360-degree Ozo virtual reality camera to which Disney has just signed up. Given that Disney owns the likes of Marvel and Lucasfilm, that means the Ozo could end up making VR movies for Star Wars, Toy Story and The Avengers.
Now, Nokia has bought into a wellness start-up and it should come as no great surprise. Ramzi Haidamus, president of Nokia Technologies, has been flashing a lot of ankle recently.
Last year, Nokia announced a €100m fund focused on French start-ups working in the Internet of Things area, and just last month Haidamus told Fortune magazine: "We're also looking at another area where we have not launched any products – digital health. Digital health is something that comes very natural to Nokia. It's a brand that's known for a solid, reliable brand."
So what has €170m bought Nokia?
Founded in 2008, Withings was among the first to wire up wellness devices to the Internet. Its range of connected devices includes smartwatches, blood-pressure monitors, Wi-Fi scales, thermometers, fitness trackers, baby monitors and the Aura sensor that tracks your sleep.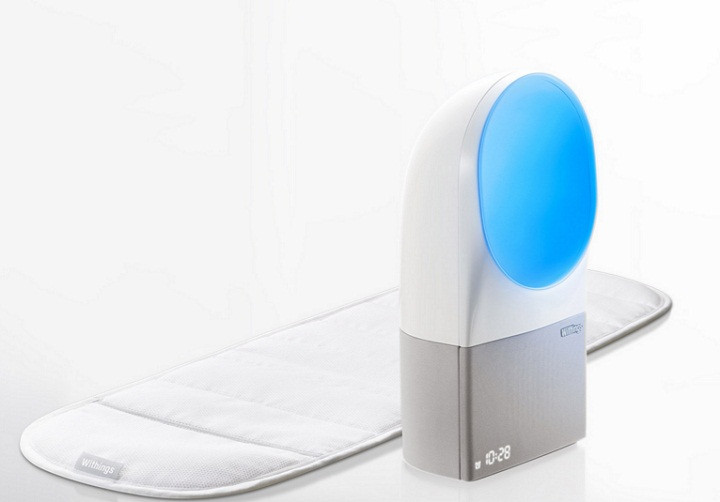 "We have said consistently that digital health was an area of strategic interest to Nokia, and we are now taking concrete action to tap the opportunity in this large and important market," said Nokia Chief Executive Officer Rajeev Suri in a statement.
Estimates value the global healthcare market at some $6.5tn. That market is only going to get bigger, especially in Nokia's backyard of Europe with its ageing population. Spending on healthcare within the EU will consume 14% of GDP in 2030, up from 8% in 2000, according to the World Bank.
But Nokia is guilty of a little sleight of hand, conflating health and wellness. The health tech market is divided in two: regulated medical devices used by medical professionals and unregulated wellness devices used by consumers.
The biggest slice of the pie is in medical devices, but dealing with America's notoriously Byzantine Food and Drug Administration can mean years of trials and mountains of paperwork to gain approval, making it an unattractive market for entrepreneurs and investors with narrow horizons. What doctor is going to use data from an unapproved medical device to make clinical judgements? That way malpractice suits lie.
Fitness wearables the way back to consumer's hearts?
The smaller slice — wellness — is where Withings operates and where Nokia is muscling itself into. The success of companies like Fitbit, sold in 37,000 retail outlets worldwide, is what Nokia is after.
A 2014 report, Wearable Technology & Preventative Healthcare, found three quarters of US adults do not track their weight, diet, or exercise using a fitness tracking device or app. That is a huge opportunity.
However, even among the quarter who do, success is not guaranteed. While a lot of devices are sold, how many are actually worn? Such data is hard to come by, but a July 2014 survey by Endeavour Partners of 6,223 US adults found that while one in ten people age 18 or over owns a tracker, more than half of the respondents had given up using it.
Nevertheless, €170m, while not chump change, isn't a relatively large sum for tech takeovers. What the Withings deal does also buy is valuable shelf space inside Apple stores the world over. Apple customers are not afraid to shell out big dollars on brushed aluminium gadgets, however questionable their utility. Nokia will be very happy to have a share of that market.
Like many older couples, Nokia is looking back into its past to rediscover its future. For a period in the 1980s the Finnish company made televisions, and pretty good ones they were too. Mind you, the company has also made paper and rubber tires so who knows, given its fondness for a diet of French companies, maybe Michelin is next on the shopping list?