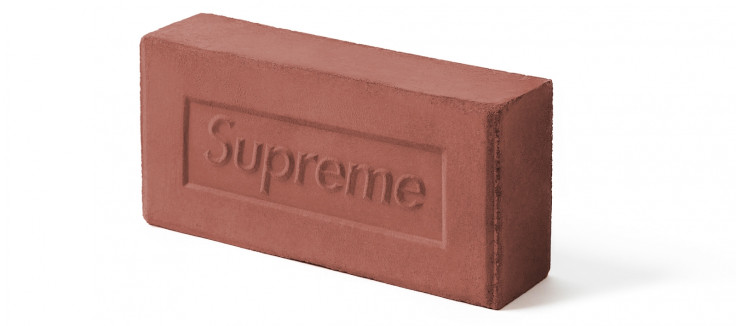 Could this be the most stylish brick in the world?
Designed and sold by New York skateboard fashion brand Supreme, the brick has been seen on eBay with a price tag of $1,000 (£772), just hours after it sold out at its physical storefronts.
The brick is part of an accessories line, that has previously featured a branded hammer, calculator and fire extinguisher, is the same size as a standard house brick and was originally priced at $30 (£25).
A similar brick, albeit without the Supreme branding, would cost from 44p if purchased at DIY supplier Wickes.
Supreme is a skatewear brand which releases its limited-edition clothing and other products in weekly "drops".
Fans queue overnight for the chance to get their hands on the latest items as soon as the shop opens on Thursday morning.
The brand's London store is so popular that there have been reportedly been rumblings from local authorities regarding the size of the queue. Resellers can make up a sizeable proportion of the crowd, due to the fact that Supreme clothing and merchandise can be sold on line for a sizeable profit.
Sold Out, a 2015 documentary on the brand, revealed that some teenagers in New York were making thousands of dollars from the reselling trade.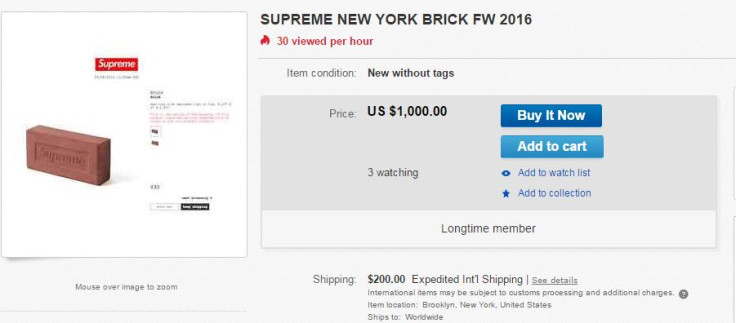 The brick has become part of the reselling phenomenon with some eBay auctions putting a $1,000 Buy It Now price on the accessory.
Its fans are known for their dedication and willingness to buy anything the brand puts out, but some diehards were left questioning if the brick was a step too far.
And shoppers lucky enough to get their hands on the brick were attempting to find a sensible use for it:
While at least one commentator had a suggestion for the brick's popularity: