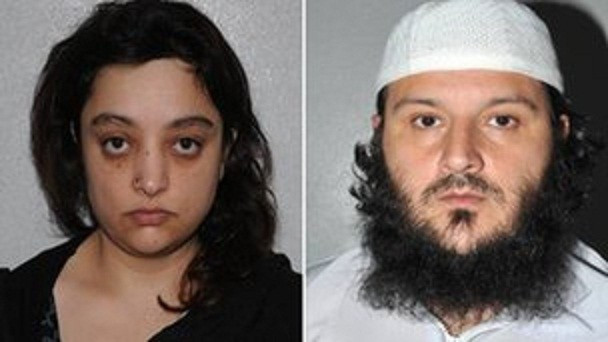 A couple who planned a terrorist attack on a Jewish community in Manchester have been jailed for a total of 15 years.
Mohammed Sajid Khan, 33, of Oldham, who admitted terrorism charges, was jailed for a minimum of seven years. His wife Shasta, 38, was jailed for at least eight years after being found guilty of engaging in preparation for terrorism and two counts of possessing information useful for terrorism.
The pair are believed to have planned to build a homemade bomb and use it against Jewish communities across Greater Manchester.
Their plan was foiled after police found a cache of terror-related material at their home in Oldham after they were called out to the property to investigate a domestic dispute between the two.
Officers found videos showing beheadings, al-Qaida propaganda, bomb-making guides, safety goggles, syringes, peroxide, bleach and electrical equipment.
The couple were thought to have been influenced by an online al-Qaida magazine. One of the articles featured in the magazine entitled "Make a bomb in the kitchen of your mom" offers a step-by-step guide on making an explosive using Christmas lights.
Jihad at home
Det Chief Supt Anthony Mole, head of the North West Counter-Terrorism Unit, said: "It is impossible to say with any certainty what their exact endgame was or what their specific targets may have been but the evidence suggests they were in the attack-planning stage of a terrorist act motivated by anti-Semitic beliefs.
"What we must acknowledge is the dangers posed by the relatively easy access to online publications which contain instructions on how to make viable explosive devices from everyday household items, and how this can create home-grown terrorists.
''The Khans did not need to travel to training camps in Pakistan or Afghanistan - the knowledge they needed to commit a terrorist act was available at the click of a few buttons from the confines of their own home. This was jihad at home."