Will David Cameron keep his promises? 10 pledges the prime minister made during election campaign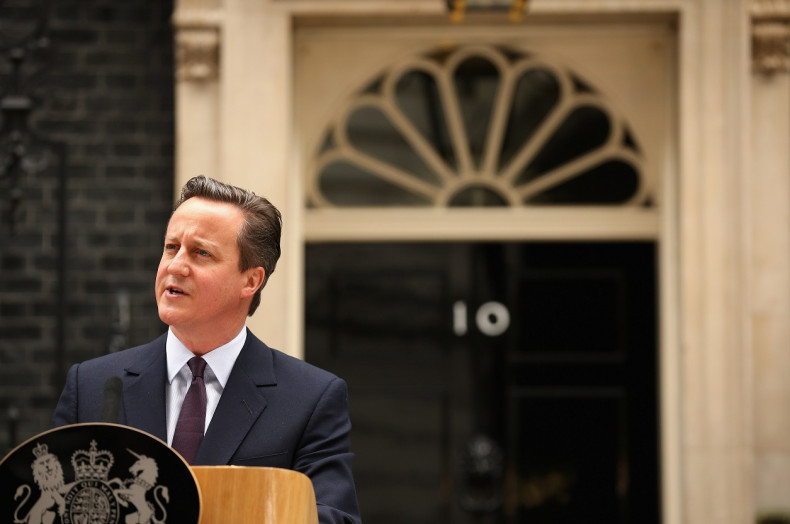 David Cameron had a lot to be happy about as he stood in front of 10 Downing Street on 8 May.
He had earlier become re-elected as prime minister and his party swept to power with a majority as the Tories ended up with 331 seats, five more than the majority threshold, while a number of his close rivals – Ed Miliband, Nick Clegg, Nigel Farage – stepped down from their roles as leaders.
While the slender margin means he might not be enough to steamroll legislation through the House of Commons, in a speech outside his home, Cameron said it was enough to guarantee the party delivers on its election pledges.
"Our manifesto is a manifesto for working people and as a majority government we will be able to deliver all of it," Cameron said.
But what are the promises he made while he was drumming up support on the campaign trail? IBTimes UK looks at some of the pledges the emboldened prime minister must keep.
1) European Union referendum
It seems like Cameron has been promising an in/out EU referendum forever. His backbenchers might have been appeased with the party's election success but he must now deliver treaty reform in Brussels and the referendum by 2017.
2) Devolution of powers to Scotland
The prime minister said he would "stay true to my word" and implement devolution to Wales, Scotland and Northern Ireland. It comes after the Tory manifesto said the party would include a Scotland Bill in the first Queen's Speech.
3) Raising the personal allowance for tax to £12,500
Clegg will likely be keeping an eye on this commitment after the Liberal Democrats fought for the threshold to be increased during the coalition years. Cameron said he would help 30 million people "cope with the cost of living by cutting their taxes".
4) Welfare cuts
Deeper cuts to the tune of £12bn are planned for the welfare state, savings Cameron has said will be found partly through the introduction of Universal Credit.
5) NHS spending
Labour pinned its hopes on winning the election on trashing the Conservatives' record on the NHS. Cameron ultimately won the war over the service, committing £8bn to it by 2020, funded by what he hopes is a booming economy.
6) Building a 'northern powerhouse'
Barely a day went by during the election campaign without Chancellor George Osborne on a building site in a hard hat, championing nationwide economic growth and the emergence of a "northern powerhouse". What does it mean? "It means giving everyone in our country a chance – so no matter where you're from," Cameron explained.
7) Tax-free childcare
In its manifesto, the Conservatives said parents deserved more help with childcare. This will arrive in the form of tax-free childcare during the next parliament worth up to £2,000 per child, per year. Families where all parents are working will receive 30 hours of free childcare for three and four-year-olds.
8) No increase in income tax, VAT and National Insurance
Straight out of the manifesto: "A Conservative government will not increase the rates of VAT, income tax or National Insurance in the next parliament." Simple as that. Coupled with the raise in income tax threshold, the Tories believe this will put more money in Joe Public's pocket.
9) Rail fare freeze
Appealing to commuters, the prime minster made the unexpected announcement he would freeze rail fares for the whole of the next parliament. The policy, which applied to London's Tubes and buses, will see season ticket prices rise by no more than the rate of inflation. So much for Conservatives not interfering with the market.
10) Housing revolution
Way back on 14 April, Cameron aped his inner Thatcherite by vowing to extend Right to Buy for 1.3 million families in housing association properties. The mooted housing revolution will see homes capped at almost over £103,000 in London and £77,000 for the rest of England.