The title and the synopsis of the premiere episode of The Walking Dead season 7 are out and they hint at the introduction of a new society, the Whisperers.
The AMC zombie series is returning on 12 February and episode 9 is titled as The Rock in the Road. The network has also released a brief synopsis which reads: "Rick is introduced to a new community."
In episode 8, fans saw a mysterious person stalking Rick and his group. While it can be anyone, wild guesses and the current synopsis has prompted fans to think that the human slayer group of survivors will make their fearful entry into the show.
The Whisperers are a brutal society that remains camouflaged by wearing rotten zombie skins and takes pleasure from killing remaining human survivors and rob their supplies. The Kingdom, the Hilltop and the Alexandrians are already suffering due to Negan and his group Savior's atrocities. And the introduction of another terror will only add to their worries.
Previously, show creator Robert Kirkman predicted that the Whisperers might show up earlier than fans thought. The official Instagram page has also given hints of the group's introduction. It remains to be seen which new society will be introduced to Rick when the show returns in February.
The show, which was severely criticised for the premiere episode violence in the seventh season, has toned down the goriness in the next episodes. But it appears violence will find its way as Andrew Lincoln believes violence was a necessity to show the" build-up to war between Negan and Rick".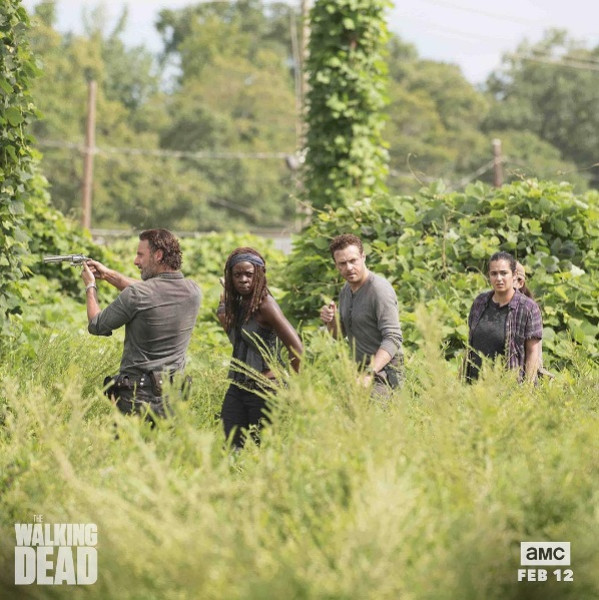 "[Showrunner Scott M. Gimple] wanted people to want more than that — to really feel that they wanted justice, and then to also acknowledge the cost of what had happened and why they were willing to risk it all again while realizing that they were putting many, many, many lives back in the firing line. I think he really wanted it to feel like the audience, rather than just baying for blood, wanted justice for what had happened. And that, for me, was quite a helpful way of understanding why it had to be so immersive and so painful — certainly for all of us on set and acting in it, but also, I think, for the audience," he told Entertainment Weekly.