Walking Dead season 7 may bring the Whisperers early; will Rick be ready to fight them?
Rick is still struggling to fight the notorious Savior leader Negan.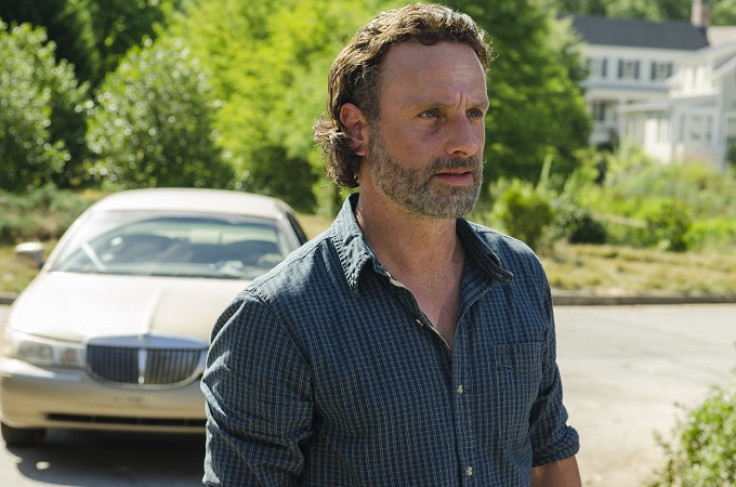 The Walking Dead season 7 returns on Sunday (27 November) with episode 6 titled Swear. The synopsis of the upcoming chapter teases the introduction of another brand new society. As of now, fans have seen Negan cause havoc, King Ezekiel and his flourishing Kingdom and the submissive Hilltop people.
Now, a fan theory suggests that the new clan can be that of the dreaded Whisperers, a brutal society that remains camouflaged by wearing rotten zombie skins and takes pleasure from killing remaining human survivors.
Meanwhile, the synopsis of the episode reads, "Someone stumbles upon a brand new society. And this society is unlike anything seen before."
Click here to watch episode 6 online via live stream (only in the US). The zombie horror series airs on Sunday nights at 9pm ET on AMC.
According to the theory, the arrival of the Whisperers on the show will be too early especially as Rick Grimes is at his weakest point after losing two major members Glenn and Abraham and as his supporter Daryl is a captive with Negan. Hence, his first priority would be to gather his morale and act like a leader by defeating the Savior leader's tyrannical rule.
Show-runner Scott Gimple has also almost confirmed the arrival of the new group, but said that they would not be coming anytime soon. "If we've gotten this far without saying anything about them, I'd like the audience to discover this group when it's on screen. I will say ... I mean, it's not the Whisperers. I will also say, though, that it's not impossible that the Whisperers could come along or aspects of them could come along earlier than the timeline of the book, but certainly not this early," he told Comic Book.
Speculations are rife that "someone" in the synopsis is being referred to Tara, who is set to make her return on the show. She was last seen in season 6 episode 12, when she eloped with Heath after killing a Savior member. It will be interesting to see which society she will be with, if not the grotesque community.
The arrival of the Whisperers was previously teased by AMC when the network shared a picture featuring a zombie head stuck on pike, a signature sign of the cruel group.
It will be interesting to see whether Tara actually meets and escapes the dreaded group to tell the tale to her fellow Alexandrians.
© Copyright IBTimes 2023. All rights reserved.