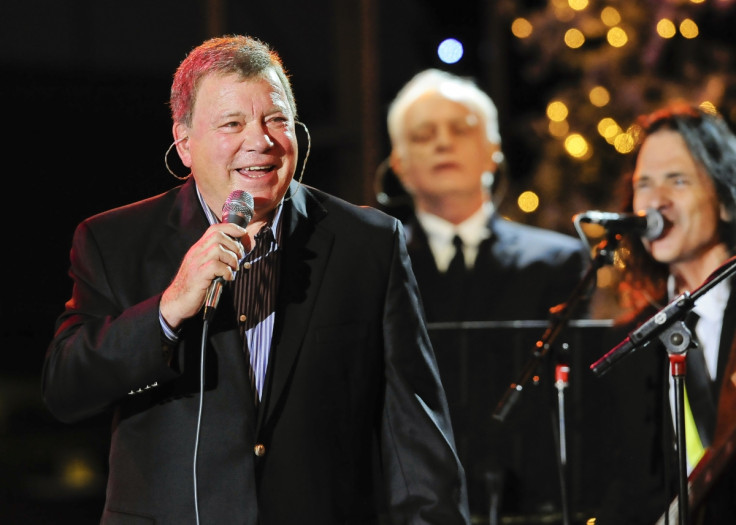 William Shatner, who rose to fame playing Captain James Tiberius Kirk, commander of the USS Enterprise in Star Trek, celebrates his 83rd birthday on Saturday.
After starring as Kirk from 1966 to 1969, Shatner reprised the role in numerous Star Trek feature films and an animated series, and went on to feature in scores of films and TV programmes.
He continues to entertain audiences, starring recently in law drama Boston Legal for which he won two Emmys and a Golden Globe Award, and co-hosting the Academy Awards with fellow Canadian Seth MacFarlane last year.
As well as becoming one of the world's most recognisable TV stars, he has also branched out into music, comedy, directing, and even writing, with a series of sci-fi novels, some of which were adapted for television.
IBTimes UK looks back at the life of a genuine legend.
In the 1968 Star Trek episode Plato's Stepchildren, Shatner, in his role as Kirk, kissed co-star Nichelle Nichols, in a scene believed to be the first kiss between a white man and black woman on scripted US television. The scene was cut when the episode was shown in apartheid South Africa.
In the 1970s, Shatner struggled to find work and break free from his role as Kirk. He was reportedly reduced to living in a trailer and being paid for appearances at small parties to support his family.
He also starred in a range of commercials and B movies, of which TV movie The Horror at 37,000 feet (1973) is believed to feature his worst performance.
Shatner branched out into music with his 1968 album The Transformed Man, in which he delivered spoken word interpretations of Mr Tambourine Man and Lucy In The Sky With Diamonds. His interpretation of Elton John's Rocket Man at the 1978 Science Fiction Film Awards has gone on to become something of a cult classic. He went on to record three more studio albums.
As Star Trek gained a huge following, after numerous syndicated reruns on US TV, Kirk became a cultural icon, and Shatner began appearing at Star Trek conventions organised by Trekkies. However, by the 1980s, he felt the role was becoming a millstone, and in a 1986 appearance on Saturday told fanatical fans to "Get a Life".
Shatner has been married four times and has three children. His third marriage, to Nerrine Kidd-Shatner, ended in tragedy, when Shatner discovered her body in their swimming pool. An autopsy revealed traces of alcohol and Valium in her blood, and a coroner ruled she had drowned accidentally. On his 2004 album Has Been he describes his anguish at finding his wife's body on track What Have You Done.
Shatner's career got a long overdue boost with his comedy-drama role as Denny Crane in Boston Legal, which ran from 2004-2008. Watch highlights of his performance on the YouTube video below.