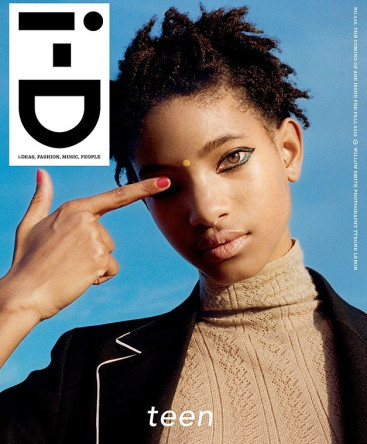 She found fame at the tender age of 11 with her hit Whip Your Hair and now Willow Smith is getting ready to strut her stuff on the runaway. The teenage daughter of Hollywood power couple Will Smith and Jada Pinkett Smith has signed a modelling contract with one of the biggest agencies in the world.
The Society Management modelling agency, which represents runway stars like Kendall Jenner, Adriana Lima and Toni Garrn, announced on 29 September that it had signed the 14-year-old songstress.
Taking to social media, the New York-based company shared a snap of the Willow on the cover of i-D magazine on Instagram, along with the caption: "A grand welcome to Willow Smith". It also tagged the post "Now representing."
But this is not Willow's first foray into fashion. The budding scarlet has already had a stellar launch pad for a modelling career thanks to her recent cover for the Icons issue of Harper's Bazaar as the Hindu goddess Kali and has also been announced as the newest face in a major campaign by fashion designer Marc Jacobs.
Despite taking her career in a new direction, the youngster is still working hard in the studio. Earlier in September she released a video for her new song Why Don't You Cry in collaboration with i-D magazine. In the four-minute coming-of-age promo the singer's character is seen shedding tears as she is shown sparring with her parents, portrayed by actors bearing a strong resemblance to her real-life mum and dad.
According to the video's caption on YouTube, Willow came up with the concept and visuals for the new song. "When she is backstage letting out the last bits of her tears, the higher self appears and is ready to become one again − through the teenage girl's emotional release. She has come to terms with her divinity," she told i-D magazine.