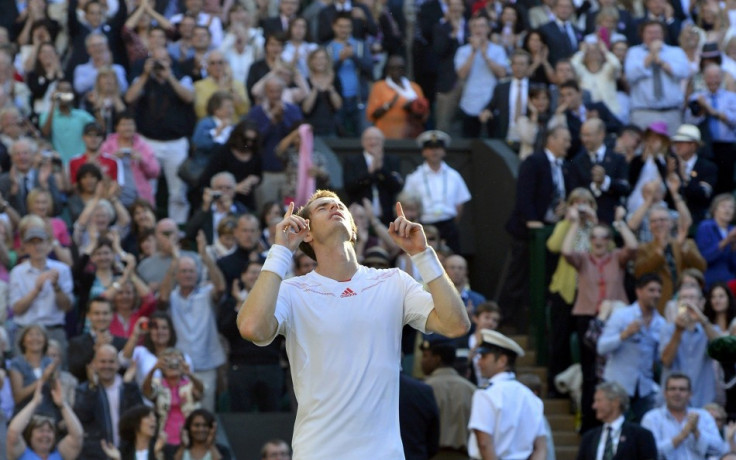 Roger Federer will look for a record equalling seventh Wimbledon title when he walks out on Centre Court on Sunday, while Andy Murray will try to become the first British champion at the All England Club in 74 years. After two weeks that has seen some outstanding displays of tennis on the club's grass courts, the Wimbledon men's final is set to start and it promises to make history whichever way the result goes.
Federer can add a 17th Grand Slam to his trophy cabinet with a victory and if he does that, he will not only reclaim the world number one title but will also tie Pete Sampras' record for most weeks as the top-ranked player. On the other hand, if Murray wins it will be his first Grand Slam crown and there could not be a better stage for the 25 year old to do it, as he will also end a British drought at Wimbledon and become the first UK-based player to win the major since Fred Perry in 1936.
Both Federer and Murray are fantastic defensive players. Their footwork is brilliant and it allows them to retrieve the ball or launch excellent counter-attacks from difficult positions on the court. Both are also masters at hitting winners from a defensive position.
On the offensive side, Murray has a stronger backhand than Federer. The backhand is one the Scot's biggest strengths and his two-handed shots can slice cross-court or attack up-the-line more consistently than the Swiss' one-handed backhands. But Federer obviously has the edge when it comes to forehands - one of his biggest weapons. In addition, he has a much better serve than Murray, especially when comparing second attempts.
The interesting fact about Murray is that he has a better record against Federer. The Scot is 8-7 against the Swiss master. However, the world number four has not beaten the 16-time Grand Slam winner on the biggest stages. They have met each other twice in Grand Slam finals and Federer has beaten Murray on both occasions (2008 US Open and 2010 Australian Open).
There is enough pressure on Federer as the 30 year old has not won a Grand Slam title since beating Murray to claim the 2010 Australian Open. It has been two-and-a-half years since that win and the barren period saw Serbian Novak Djokovic emerge as the new world number one. Federer has a point to prove, especially at Wimbledon, his favourite Slam. If he loses, pundits and fans might write him off in terms of winning majors. Federer has staged incredible comebacks in his career before and will desperately want to do one on Sunday.
But the real pressure is on Murray. He's 0-3 in Grand Slam finals and in those three finals, he has not managed to win a single set, suggesting that the Scot a bit of choker when it comes to the big stage. Some think he cannot pull off a win at the majors and if he loses on Sunday, the criticisms will get a lot tougher.
Where to Watch Live
The television guide on iTV lists the day's play starting live from 12.55 pm BST to 5.30 pm BST on BBC One and BBC One HD. You can also watch the Mixed Double's final live, from 5.30 pm to 8 pm on BBC Two. For country specific and broadcasting details and times, check out the BBC television programming Web site. You can also follow the matches live on Wimbledon's official Web site.