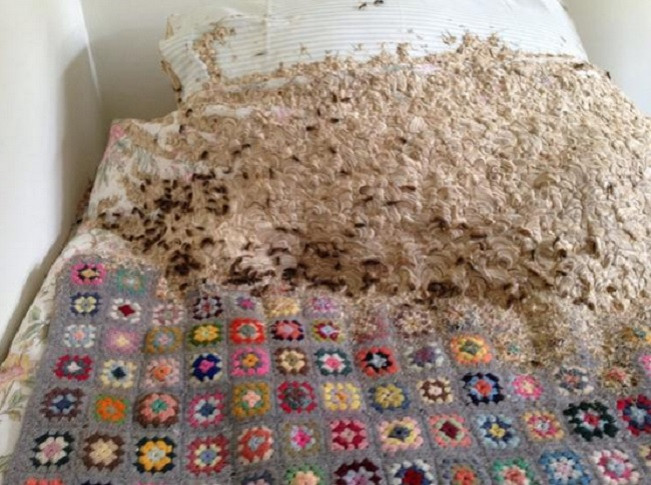 Warning: Don't leave your window open for months on end or you may encounter a huge wasp nest like this in your bedroom.
Pest controller John Birkett couldn't believe his eyes when he was called to obliterate the nest with more than 5,000 wasps on a bed in a suburban home in Winchester, Hampshire.
"I opened the door and I just couldn't believe it," Birkett told the Hampshire Chronicle. "It was the most incredible thing I've seen.
"I got dressed up like a spaceman and tried to destroy as many as I could with the workers flying around the room."
He added: "I have never seen so many wasps and I have been doing this for 45 years.
"I had to go in to the room and close the door, otherwise the house would have been filled."
The nest was discovered by a woman, who wanted to remain anonymous, at her St Cross home. She had not been in her spare room for three months where a small window had been left open.
The wasps chewed through the pillows and into the mattress to enlarge their nest which measured about 3ft wide and 2.5ft deep.
Birkett, who works for Longwood Services in Owslebury, said: "I did think what a wonderful job they had done."
It took the pest exterminator about two hours to remove the nest.