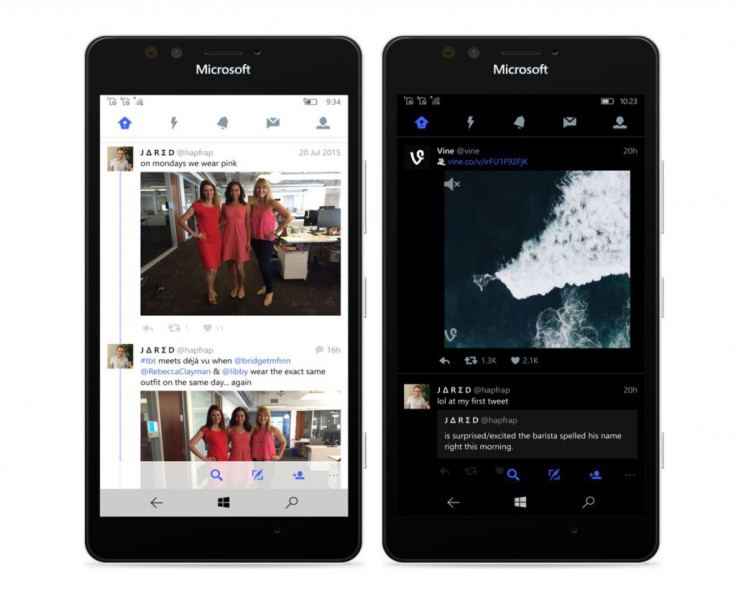 Twitter has finally launched an app for Windows 10 mobile users. The app comes with similar dark themes as seen on Windows desktop and tablet devices and also comes with some updated features like camera support.
The app also supports Twitter's latest updated features like sending group Direct Messages and the ability to see top tweets without having to log in. The new app is also compatible with Microsoft's Universal Windows Platform (UWP). This means the app display is flexible enough to change sizes according to the size of the device.
Twitter product designer Angela Lam said: "Today we're excited to share an update to Twitter for Windows 10. Now alongside with the Twitter app on desktop and tablets, you can experience Twitter for Windows 10 on mobile phones."
"When bringing the app to mobile phones we carefully considered each section of Twitter and how the user interaction translates from desktops and tablets. We found that 90% of the UI and interaction models could be shared from these devices to mobile phones, but there were places where we decided to make adjustments to optimize for each," she added.
Among the updated features that Twitter for Windows 10 mobile now supports is camera support, which allows users to shoot, edit and tweet videos directly from within the app. Users can also share or quote tweets when retweeting and access Twitter's moments.
Twitter's UWP support means the app is displayed in different ways to users, in accordance with the size of their device. For instance, Moments on mobile devices will feature full screen, offering users the ability to swipe through the stories to navigate. However, on larger screens like tablets and desktop, Moments will be displayed in grid format, from which users can pick and choose stories.
Microsoft and Twitter are looking to add more new and updated features for Windows 10 users in the near future. The app is available for free and can be downloaded from the Windows Store.