The OEM (original equipment manufacturer) price for Microsoft's Windows 10 has surfaced ahead of the official release of the operating system, which is coming on 29 July.
Online retailer newegg, which is believed to be one of the retailers, is the first to reveal the pricing details for the OEM versions of Windows 10.
According to price deals posted on the site, the Windows 10 Professional version costs $199.99 (£131.38), whereas the Home version is $109.99 (£72.25).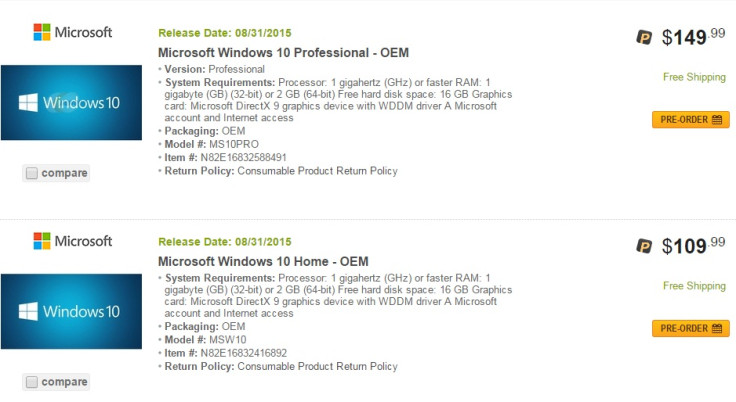 Following are the links to place pre-orders for the Windows 10 Home and Professional OEM versions via newegg.
Microsoft Windows 10 Home - OEM
Microsoft Windows 10 Professional - OEM
Microsoft has already confirmed that Windows 10 will be available as a free upgrade for qualified Windows 7 and Windows 8.1 devices. However, hardware and software requirements and features availability may vary depending on the device and market. Also, a Windows 10 upgrade for Windows 8.1 might vary by OEM, mobile operator or carrier.
"Devices must be connected to the internet and have Windows Update enabled. Windows 7 SP1 and Windows 8.1 Update is required. Some editions are excluded: Windows 7 Enterprise, Windows 8/8.1 Enterprise, and Windows RT/RT 8.1. Active Software Assurance customers in volume licensing have the benefit to upgrade to Windows 10 enterprise offerings outside of this offer," notes the Windows 10 product site.
Microsoft is yet to announce a price for the non-upgradable version of Windows 10.
The release date noted on the site for both Home and Professional version of Windows 10 is 31 August. However, there is a caution symbol next to the release date that suggests this is subject to change.
Source: Neowin