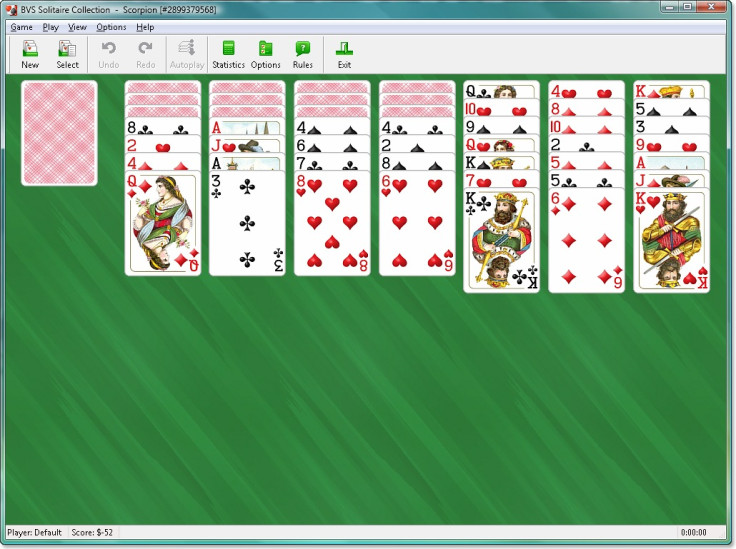 Solitaire has returned to Microsoft operating systems with Windows 10 as a freemium game that requires a monthly fee to get rid of ads and earn in-game currency. The Solitaire Collection borrows from models used by popular apps Candy Crush and Clash of Clans by charging for a subscription instead of a one-off purchase for the game.
Solitaire was a staple on Microsoft operating systems from Windows 3.0 until Windows 7. The widely slated Windows 8 was the first Microsoft OS since 1990 to not come with the game pre-installed, however it was possible to download a version of the game through the Windows Store.
The reintroduction of Solitaire to Windows 10 coincides with the 25th anniversary of the addictive game. Several variants of the classic card game are included in the Solitaire Collection, each one packed with ads if users do not pay $1.49 (£0.95) per month or $9.99 per year.
"Microsoft Solitaire has been free to play for the past 25 years on Windows, and continues to be free to play on Windows 10," a Microsoft spokesperson said. "Users can access and play everything within the game for free, including new Premium features like Daily Challenges and Star Club.
"The Microsoft Solitaire Collection game experience and Premium Upgrade features such as Double Coins for Daily Challenges, and removal of advertisements, is identical to the Windows 8 version that has been available for years."

Microsoft launched Windows 10 on 29 July, skipping Windows 9 entirely in order to emphasise the radical overhaul of its operating system. Despite charging users for Solitaire, Microsoft is offering Windows 10 as a free upgrade for Windows 7 and Windows 8 users.
As well as the return of Solitaire, Windows 10 also features the return of the Start menu. Other stand-out features include the integration of the digital assistant Cortana and a brand new web browser called Microsoft Edge.
Windows 10 has been described as "a new era" for Windows by Terry Myserson, head of the Windows division at Microsoft. "From the beginning, Windows 10 has been unique – built with feedback from over 5m fans, delivered as a service and offered as a free upgrade," he said.
"Windows 10 delivers on our more personal computing vision, with a natural, mobile and trusted experience. Along with our partners, we're excited to deliver the best Windows ever, which will empower people and organisations around the world to do great things."