The next iteration to the Windows Phone 8.1, commonly known as Windows Phone 8.1 GDR1 or Update 1, is reportedly in the testing phases.
Following a series of GDR1 (General Distribution Releases) build leaks, it now appears that the manufacturers have already started testing Windows Phone 8.1 GDR1 on their devices. The update has been released to OEMs (Original Equipment Manufacturer) starting last week, reveals NPU.
This release hints that the Windows Phone 8.1 GDR1 version is already in the RTM (Release to Manufacturing) phase.
Microsoft is expected to release the Preview for Developers version in August. Besides, the upcoming devices powered by Windows Phone 8.1 GDR1 are likely to see a launch between late August and September. This might include Nokia's Lumia series devices as well.
Windows Phone 8.1 GDR1 Features
The report further confirms the features the GDR1 update is likely to integrate. According to the leaked screenshot, the new update will support 1280 x 800 screen resolution and Network Time Protocol (NTP) enabling devices to receive time when NITZ (Network Identity Time Zone) is not available.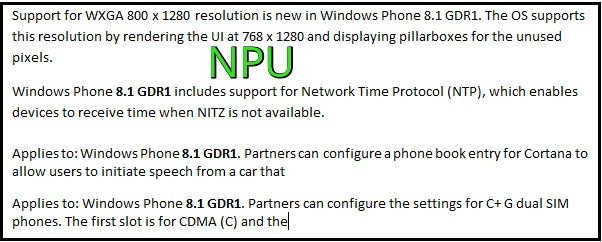 It will support dual-SIM devices with both GSM and CDMA networks. Finally, the GDR1 will feature 'Voice over LTE/4G' and a phonebook entry for Cortana personal digital assistant to enable integration with a car's navigation system.