The wives of some prominent lawyers and activists, who were among the key targets of Chinese President Xi Jinping's crackdown on civil society, have escalated their campaign for justice.
The woman, whose husbands were detained in 2015 on charges of political subversion under a major government offensive against the country's human rights activists, have also backed calls for US sanctions against Chinese officials, who were accused of torture and abuse.
On Thursday, 18 May, the women were present for a congressional hearing in Washington to detail the trauma caused by China's so-called "war on law".
The hearing was part of a push by human rights groups to persuade US President Donald Trump's administration to use a new law, which provides the ability to sanction any individual involved in human rights abuses.
Under the Magnitsky Act, the US can bring sanctions such as travel bans or property seizures against Chinese officials who are accused of human rights abuses. The Act, which is named after Russian lawyer Sergei Magnitsky, was first passed in 2012 but until December 2016 it only applied to Russia.
The women testified against the abuses they and their families suffered due to the crackdown.
Chen Guiqiu, who came to the US in March, said her husband – attorney Xie Yang – had been in prison for two years and was being tortured almost every day because of his work protecting victims of land grabs, religious hounding and dissidents.
Chen described her husband's torment as an example of "China's lawlessness" and alleged that at his recent trial Xie had been compelled to refute allegations that he had been victimised, the Guardian reported.
Wang Qiaoling, whose husband Li Heping was recently freed after a 22-month ordeal in custody, said he returned home looking "20 years older". She added how Li was forced to sit in stress positions and was chained for hours.
"He suffered from very cruel and sick torture," Wang said.
Lee Chin-yu, wife of a Taiwanese human rights activist Li Ming-che, was also present during the hearing. Ming-che went missing after travelling to the mainland in March. He was detained on suspicion of endangering national security.
"I stand alone before you today to plead for your help for my husband," Chin-yu said, while calling on the Trump administration to put pressure on China to free her husband.
Commenting on the struggles of the women, Terry Halliday, the author of a book about China's human rights lawyers, said they had started "a new line of struggle that we have not seen before in China".
"These women have become a very powerful and visible public presence both of criticism of the government, of appeals for the release of their loved-ones but also impugning China in the eyes of the world.
"It is remarkable. It is not so easy for the government to silence wives and daughters," he added.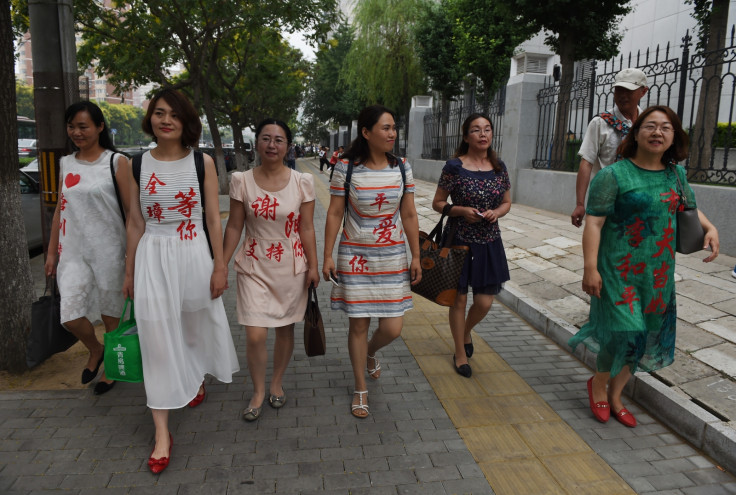 Chris Smith, the Republican congressman who led the session, said he hoped such action could help end the "shocking, offensive, immoral, barbaric and inhumane" treatment of Chinese activists, who have been victimised since Xi came to power in 2012.
"While President Xi Jinping feels feted at Davos and lauded in national capitals for his public commitments to openness, his government is torturing and abusing those seeking rights guaranteed by China's own constitution," Smith added.
However, China has refuted the allegations of human rights abuse and accused the Western media of propagating fake news.