Chinese authorities have banned the sale of dog meat at this year's Yulin festival – an event that has sparked controversy around the globe due to harrowing images of mass animal cruelty – according to two leading charities.
Animal welfare campaigners are celebrating the news that no dogs will be slaughtered for their meat at this year's edition of the infamous festival, which begins next month on 21 June.
Duo Duo Animal Welfare Project and Humane Society International claim that Chinese activists and three meat traders from Yulin have confirmed the ban.
They say Yulin's new Communist Party Secretary Mo Gong Ming has been instrumental in establishing the prohibition.
The ban will come into effect on 15 June, according to the charities.
"Even if this is a temporary ban, we hope this will have a domino effect, leading to the collapse of the dog meat trade. I have visited Yulin many times in the last two years", said Andrea Gung, executive director of Duo Duo Animal Welfare Project
"This ban is consistent with my experience that Yulin and the rest of the country are changing for the better. I am very impressed that the younger generation in Yulin and in China is as compassionate as their counterparts in the rest of world."
The event's organisers have come under intense international pressure to stop the event because it violated the norms of the international community, increasingly brought together by globalisation and modern communication techniques.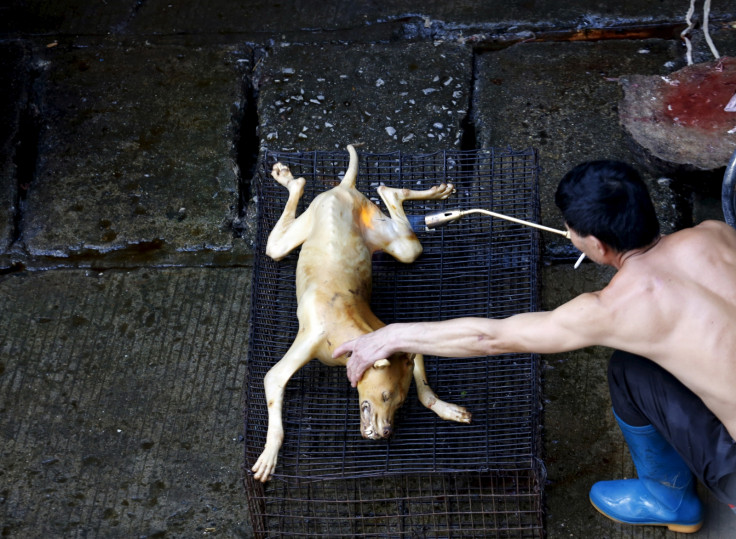 The city of Yulin has a population half a million and is situated in south-west China's Guangxi Zhuang Autonomous Region. It is best known globally for the meat festival, which has attracted significant media attention in the last few years.
It is by no means the only part of China to have dog meat eating culture. Duo Duo say that more than 10 million dogs and around four million cats are killed every year across China for their meat. At Yulin festival as many as 15,000 dogs were killed for their meat in the past, but campaigners say that had reduced to 2,000-3,000 in recent years.
Parts of Korea and Vietnam also have long culinary traditions of eating dogs and cats, although Taiwan's parliament passed a bill in April that made the human consumption of dog and cat meat illegal. The landmark amendment was been hailed as the first of its kind in Asia.
Peter Li, China Policy specialist at Humane Society International, said: "The Yulin dog meat festival is not over just yet, but if this news is true as we hope, it is a really big nail in the coffin for a gruesome event that has come to symbolise China's crime-fuelled dog meat trade.
"Millions of dogs and cats are stolen each year, including pets, and driven thousands of miles across China to be bludgeoned to death in front of each other."