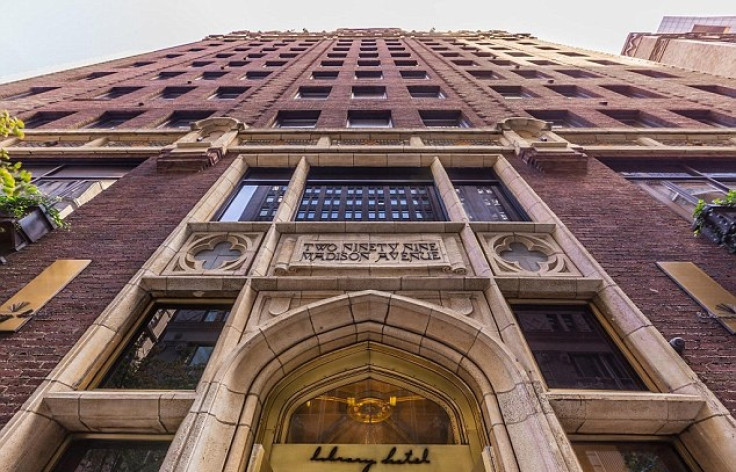 A woman jumped to her death from the rooftop bar of a Manhattan hotel, it has been reported.
Marodelle Prin, 33, leaped from a ledge in the Bookmarks Lounge at the Library Hotel in Midtown on Thursday (3 November) shortly after midnight, falling 140 feet to her death.
Earlier she had two drinks and a meal at the hotel on Madison Avenue at East 41st Street, but her card was declined when she tried to pay.
A spokesperson for the hotel said the woman, who is Filipino, was intoxicated when she stood on a chair to climb onto the ledge on the 14th floor of the building.
Bar staff called emergency services and tried to convince her to not to jump. However, as police arrived at the hotel, she leaped off the building, plummetting to her death.
The woman, from Queens, New York, was taken to Bellevue Hospital, where she was pronounced dead on arrival.
According to New York Daily News she had left a note with hotel staff, with the names and details of two members of her family to be contacted after her death.
In a statement to Mail Online, a spokesman for the Library Hotel Collection said: "We are deeply saddened by the tragic incident that took place at our hotel last night. Our guests safety and well-being is our number one priority, and our team is fully cooperating with the local officials."
Prin's family has been notified of her death, the spokesman confirmed.
_____________________________________________________________________________________________________
The Samaritans provides a free support service for those who need to talk to someone in the UK and Republic of Ireland. It can be contacted via Samaritans.org or by calling 116 123 (UK) or 116 123 (ROI), 24 hours a day, 365 days a year.
You can also call The National Suicide Prevention Lifeline 24/7 at 1-800-273-TALK (8255)