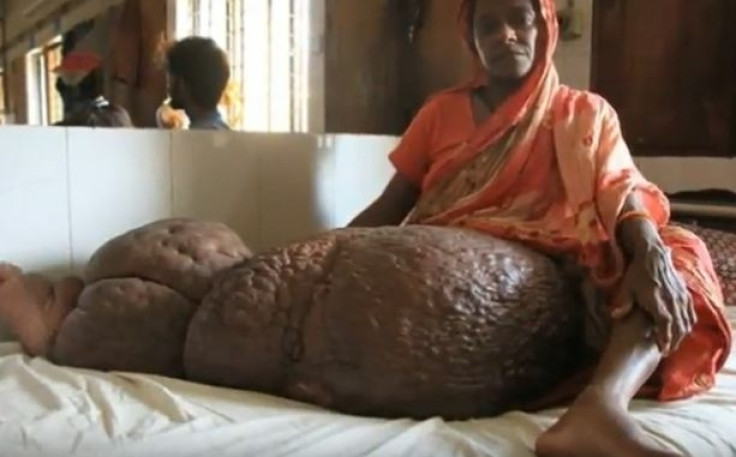 In what could be described as a bizarre medical case, a Bangladeshi woman's leg has swelled to the size of another person due to a "mystery disease" that struck her after the birth of her youngest daughter.
Forty-year-old Rezia Begum's right leg reportedly weighs around 60kg – almost the size of an adult person – due to suspected elephantiasis. She is currently bedridden at the Dhaka Medical College Hospital in the capital city seeking answers to her unbearable condition.
According to reports, Begum was like any other woman until the birth of her second child. Eighteen years ago she noticed something was not normal with her right leg. "I noticed swellings on my legs when my second daughter was born. They were gone after primary treatments, but returned some years after," the mother of two told The Daily Star.
Now her family thinks she is a burden to them. Her brother-in-law Ana Mia said, "She cannot work or contribute to the family. Rather it takes at least three people to move her."
Begum was admitted to the Dhaka hospital this week after her husband Abdul Malek, a poor farmer, heard about the successful treatment of a girl named Muktamoni (12), who was suffering from an unknown disease mainly in her right hand since her early childhood. The disease had resulted in a malignant growth on her right arm, rendering her bedridden for the last two years.
However, after the treatment, she is doing fine now.
Begum has been admitted to the Blue Unit of Burn and Plastic Surgery Unit of hospital.
Dr Shamanta Lal Sen, chief coordinator of Bangladesh's burn units, said: "We primarily suspect she has elephantiasis – what is commonly known as the elephant's foot disease. But, we will have to do tests and surgery to be sure."
Elephantiasis refers to a parasitic infection where parts of a person's body swell to massive proportions. It is said that it affects around 120 million people globally.