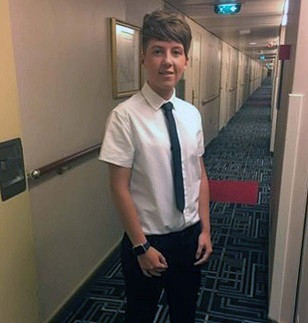 The woman who was killed in a knife attack at TUI travel agents in Southport on Saturday (13 January) had her throat slit, a post-mortem has revealed.
The examination found that Cassie Hayes died from "shock and haemorrhaging from a throat injury," according to the Liverpool Echo. A 30-year-old man from the St Helens area has been arrested on suspicion of murder and police believe the incident was domestic-related.
Hayes, 28, was attacked at the travel agent shop in Chapel Street, where she was assistant manager, at about 1.25pm. Ten police vehicles and two air ambulances attended the scene and Hayes was taken to hospital but later died of her injuries.
Tributes have been paid since Hayes' tragic death, which is thought to have taken place in front of a family she was serving.
Ex-partner Leah McDonald, who has a daughter with Hayes, wrote on Facebook: "There are no words to describe the pain I have woken with this morning! I just want to rip my heart out from my chest I can not bare it. I was blessed to have such an amazing girl for 11 years of her life when she moved here from a little town called Alnwick.
"She left her mam and her sister to come here to be with me I promised you both from that day and even yesterday that I would always protect and look after her. I am so so sorry to them and all her family and friends up there my heart breaks for you and her little TUI work mates old and new I'm thinking of you all."
Floral tributes were left at the scene overnight, which remained cordoned off on Sunday morning. Hayes' former branch manager, named Michael, wrote on Twitter: "To all who knew our AMAZING Cassie. I was lucky enough to of been her manager at Thomson Southport. She made me laugh, cry and enjoy going to work every day and be in her company. She is one of life's good ones."
A fundraising page for Hayes' family has been set up by Bruce Martin from the Travel Gossip community for the industry. He wrote: "Everyone who works in travel has been deeply upset about what has happened to a fellow travel colleague, Cassie Hayes, in Southport on Saturday 13th January.
"Cassie was the assistant manager at the TUI store and was well-known to many in travel. Many of us never met Cassie but we *know* that if we did, we would have thought she was great. We know, because we are travel.
"We understand that Cassie had a daughter and so on behalf of everyone in travel I would like to propose that we come together and contribute to fund to help Cassie's family as they see fit."
The page has so far raised £4,015, smashing its £1,000 target.
Detectives are appealing for anyone with information to contact Merseyside Police on 0151 777 3094 or the Crimestoppers line anonymously on 0800 555 111.