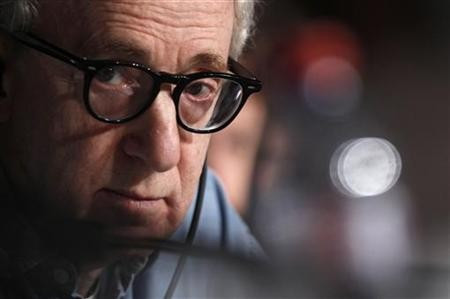 Film director Woody Allen has hit back at claims he sexually abused his daughter Dylan, and accused his ex-wife, the actress Mia Farrow, of coaching their daughter to make the accusations "merely to appease her own vindictiveness".
Writing in The New York Times, the four-time Oscar winning director denied the accusations, made by Dylan Farrow in the same newspaper last week.
Dylan Farrow has said her father sexually abused her in the attic of her mother's home in Connecticut when she was seven years old.
"When I was seven years old, Woody Allen took me by the hand and led me into a dim, closet-like attic on the second floor of our house," she wrote. "He told me to lay on my stomach and play with my brother's electric train set. Then he sexually assaulted me. He talked to me while he did it, whispering that I was a good girl, that this was our secret, promising that we'd go to Paris and I'd be a star in his movies."
But Allen strongly denied this happened and accused his ex-wife of using their daughter as a "pawn for revenge" and manufacturing the allegations as a "ploy".
"I hadn't molested Dylan and any rational person would see the ploy for what it was. After all, I was a 56-year-old man who had never before (or after) been accused of child molestation. Now, suddenly, when I had driven up to her house in Connecticut one afternoon to visit the kids for a few hours, when I would be on my raging adversary's home turf, with half a dozen people present, when I was in the blissful early stages of a happy new relationship with the woman I'd go on to marry — that I would pick this moment in time to embark on a career as a child molester should seem to the most sceptical mind highly unlikely."
Allen suggested his daughter's letter had been "guided" by her mother and contained a number of "creative flourishes that seem to have magically appeared" in the 21 years since he divorced Mia Farrow and began a relationship with her 19-year-old adopted daughter Soon-Yi Previn. They married in 1997 and have two adopted children.
"Even the venue where the fabricated molestation was supposed to have taken place was poorly chosen but interesting. Mia chose the attic of her country house, a place she should have realised I'd never go to because it is a tiny, cramped, enclosed spot where one can hardly stand up and I'm a major claustrophobe.
"Not that I doubt Dylan hasn't come to believe she's been molested, but if from the age of seven a vulnerable child is taught by a strong mother to hate her father because he is a monster who abused her, is it so inconceivable that after many years of this indoctrination the image of me Mia wanted to establish had taken root?"
The letter details the findings of an expert group of child sex abuse experts at Yale-New Haven Hospital in Connecticut, who investigated the allegations when they were first made and concluded that Dylan had not been sexually abused by her father. But the allegations have resurfaced, prompting Allen, now 78, to write the letter which he says will be his "final word on this entire matter".
In Quotes: Woody Allen's Liberal Attitude To Sex
A 1992 issue of Spy magazine compiled dozens of quotes from Allen's movies and writings that reveal a cavalier attitude toward sex with young women — and it's unclear if these controversial statements reflect Allen's opinons.
In a 1976 interview with People Magazine, Allen revealed some of his views on sex.
"I'm open-minded about sex. I'm not above reproach; if anything, I'm below reproach. I mean, if I was caught in a love nest with 15 12-year-old girls tomorrow, people would think, yeah, I always knew that about him," Allen said at the time. "Nothing I could come up with would surprise anyone. I admit to it all."
In his 1980 essay Retribution, Allen wrote about a gross love triangle that he will actually find himself in years later: "I am in love with two women, a not terribly uncommon problem. That they happen to be mother and child? All the more challenging!"
Watch Woody Allen discuss love and marriage in this vintage interview on YouTube: