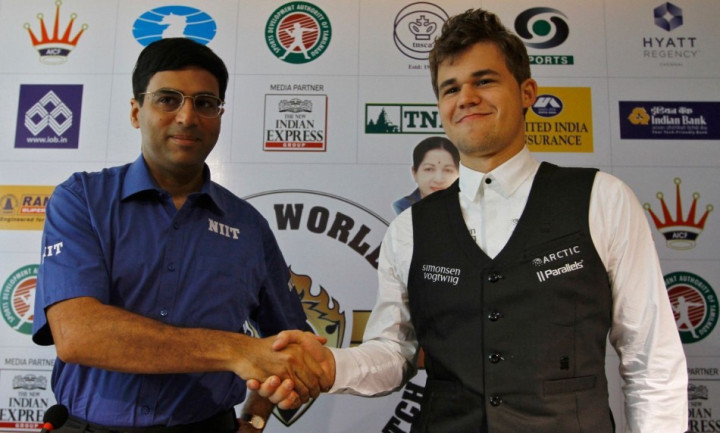 Round 10 of the 2014 World Chess Championship between reigning champions Magnus Carlsen and Viswanathan Anand will take place at the Main Media Center in Sochi on Friday.
Where to Watch Live
Play starts at 12pm GMT. Live coverage of Game 10 will be available on the official FIDE website.
Overview
The last round of the World Chess Championship ended quickly as both players agreed to a draw after 20 moves. Game 9 was the fastest game played in this year's event in Sochi.
Despite the draw in the 10th round, Carlsen in still leading by a point and the World No 1 will be playing with black pieces twice in the last three games. This should give the challenger, the much needed advantage to level the score and then push for a win.
After nine games, Carlsen is leading Anand by 5-4 and avoiding defeat in the next three rounds will see him become the World Chess Champion for the second year in a row. However, for Game 9, the Indian chess Grandmaster was well prepared and he would be hoping to continue the same run on Friday, where he will start the game with white.
What Experts Say
Susan Polgar: "With the current score w/ 3 games left and Anand with 2 white games, I would put the odds around 54%-46% in favor of Magnus. Magnus will for sure prefer football penalty kick to decide in case of a 6-6 tie. Anand will choose music 'Name that Tune'."