World's largest aeroplane with wingspan longer than football field makes debut appearance
The gigantic 227,000kg Stratolaunch is set for its first launch demonstration in 2019.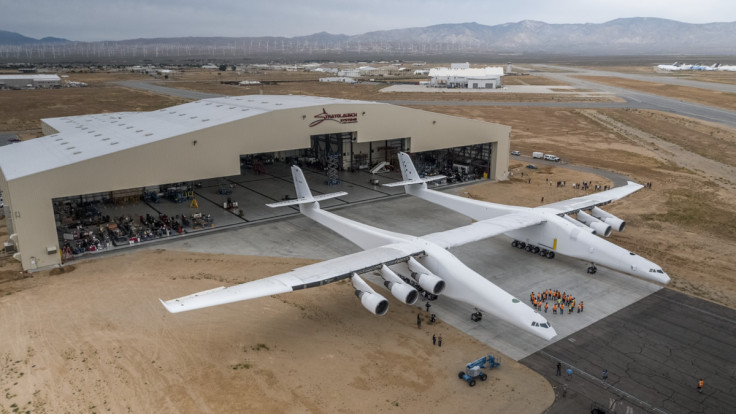 The 227,000kg huge aircraft with wingspan longer than a National Football League field made its debut appearance out of its hangar on 31 May. It will now undergo fuel and other ground testing procedures.
The aeroplane is an ambitious project of Microsoft co-founder Paul Allen, who wanted to build a carrier capable of "delivering payloads to multiple orbits and inclinations in a single mission".
Stratolaunch was rolled out of Mojave Air and Space Port hangar in California, marking "the completion of the initial aircraft construction phase and the beginning of the aircraft ground and flight testing phase", Stratolaunch Systems Corporation, the aircraft makers, said in a news release.
The company added that the 28-wheel aircraft will now undergo ground testing, engine runs, taxi tests, and ultimately first flight.
"Over the coming weeks and months, we'll be actively conducting ground and flightline testing at the Mojave Air and Space Port. This is a first-of-its-kind aircraft, so we're going to be diligent throughout testing and continue to prioritize the safety of our pilots, crew and staff," Jean Floyd, Stratolaunch Systems Corporation CEO, said in the statement.
"Stratolaunch is on track to perform its first launch demonstration as early as 2019," he added.
Stratolaunch's wingspan measures 385feet, which is larger than a National Football League field that spans only 360feet, the company said. The six-engine aircraft is 238feet long from nose to tail and stands 50feet tall from the ground to the top of the vertical tail.
Hughes H4 Hercules airplane, also called Spruce Goose, holds the Guinness Book of World Records for having the longest wingspan measuring 320feet. The eight-engine 193-tonne aircraft has a length of 66.65meter. It made a test run of 3,000 feet off Long Beach Harbor, California on 2 November 1947, but never flew again.
Antonov An-225 Mriya, which is deemed the longest and heaviest civilian airplane ever built, has a wingspan of 290feet and is powered by six turbo engines.
"The Stratolaunch aircraft is designed for a max takeoff weight of 1,300,000 lbs, meaning it is capable of carrying payloads up to approximately 550,000 lbs," Floyd said.
© Copyright IBTimes 2023. All rights reserved.