Wounded protester Shetamia Taylor tearfully thanks police for saving her and son in Dallas
Police had 'no regard for their own lives' says mother, even as protests continue throughout the US.
A tearful mother thanked police officers for saving her and her son from sniper Micah Johnson at the Dallas Black Lives Matter protest even as hundreds of people were arrested in continuing anti-police demonstrations across the nation.
Shetamia Taylor, 37, cried as she recounted how she and her son survived after an officer threw himself on top of them to shield them from the bullets amid the carnage in Dallas that killed five police officers and injured seven others and two civilians, including Taylor.
At a press conference at Baylor Medical Center in Dallas, Taylor said that she took her four sons to the protest when she heard two gunshots as Johnson began firing, then saw an officer fall to the ground.
"He said: 'He has a gun. Run,'" Taylor recalled as she choked back tears.
"I was running and I felt the bullet in the back of my leg," she said as she screamed at her children to run ahead. Her 15-year-old son, Andrew, went to "grab me but I was already shot so I grabbed him and lay on top of him. An officer jumped on top of me and covered me and my son. And there was another one at our feet, and there was another one at our head. They stayed there with us. I saw another officer get shot in front of me."
Police finally rushed Taylor and her son into a police car "riddled with bullet holes," she recalled, reported the Dallas Morning News.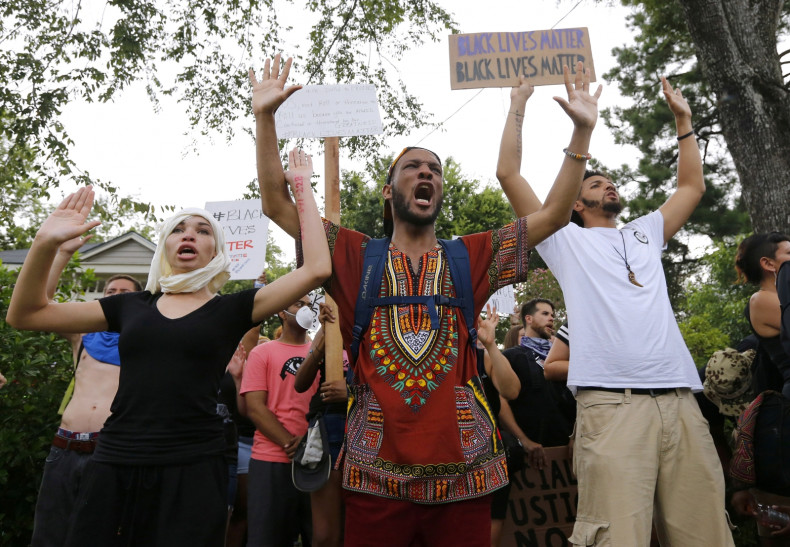 "I kept praying for everybody," she recalled, "for my sons to be safe, for the officers to be safe."
She said of the shooting: "I've never heard anything like that before. Hundreds of rounds. There were shots all around us. I'm thankful for the police because they had no regard for their own life and protected us."
But even as Taylor spoke, hundreds of protesters were behind bars after arrests at Black Lives Matter demonstrations across the nation against police killings of Alton Sterling in Baton Rouge, Louisiana, and Philando Castile in a suburb of St. Paul, Minnesota.
At least 261 people were arrested in New York, Chicago, Baton Rouge — and St. Paul, where protesters blocked a highway and hurled bottles, bricks and fireworks at police, CNN reported.
Black Lives Matter activist DeRay Mckesson, a public school administrator from Baltimore, Maryland, considered among the movement's most outspoken, was arrested Saturday night (10 July) in Baton Rouge but released the following day. He live-streamed his arrest on charges that he was obstructing a roadway.
"I was with local activists when I was arrested yesterday," Mckesson told the Washington Post after his release. "I was in compliance with the law, and I am confident that this was an unlawful arrest."
Baton Rouge police released a statement entitled "A tale of two protests," which noted that a march organized by local community leaders from city hall to the state capitol went off without a hitch while a more impromptu one near police headquarters, which they said was organised by outsiders, resulted in some 120 arrests.