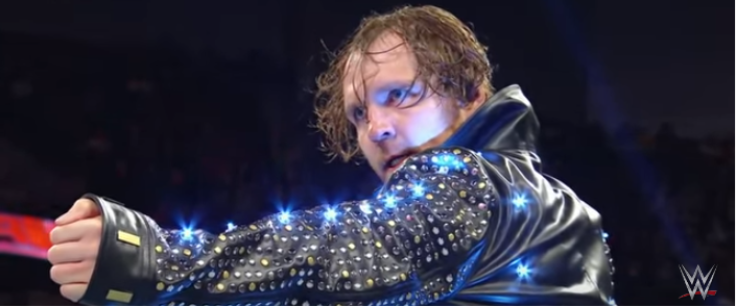 Dean Ambrose has said that he felt disrespected when Brock Lesnar assumed he was scared ahead of their clash at WWE Wrestlemania 32. The Lunatic Fringe said he was the only wrestler to step up and fight Lesnar aka The Next Big Thing, who is set to square off with Mark Hunt in UFC 200 on 9 July in Las Vegas.
During an interview with Jonathan Coachman on ESPN SportsCenter's segment Off The Top Rope, Ambrose said people tried to talk him out of the match, but he did not back out as he was "scared of no one".
"They said you will be killed and will be eaten alive by this mammoth Brock Lesnar. Brock Lesnar thinks that I should be just afraid of him," Ambrose said.
"I felt that was the ultimate disrespect," he said. "That he assumed that I would be scared of him. But I ain't scared of anybody."
Ambrose claimed that he made Lesnar suffer when they fought the last time around. If given another opportunity former Intercontinental Champion is ready to fight Lesnar in a "Denny's parking lot".
He did dish out some advice for his adversary on his upcoming UFC fight. He said mixed martial arts fighters get the opportunity to rest between fights, and Lesnar should protect his chin at all times when squaring off with Hunt.
Ambrose then spoke about Money In The Bank (MITB) PPV, which is set to take place on 19 June at the T-Mobile Arena in Las Vegas, Nevada. He suggested that competing in the ladder match was a huge opportunity, but a dangerous one as well with wrestlers taking a lot of risks to win. The winner of the ladder match is entitled to a contract that guarantees a shot at the world heavyweight title between now and next year's MITB PPV.
"Once you are in the match, you have to ignore all fears, and just climb the ladder," Ambrose said.