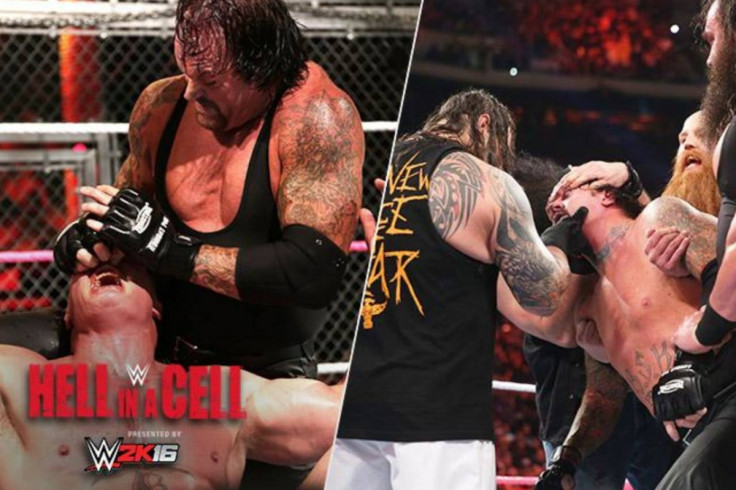 The Hell In A Cell match between Brock Lesnar and The Undertaker was definitely the big highlight of the evening and the way it ended probably could be a set-up for a Survivor Series match in November.
After the match, which resulted in Lesnar emerging as the winner, The Undertaker got a great ovation from the crowd and tried to pose for them, but was interrupted by The Wyatt Family. The Wyatts assaulted Taker, and carried his body away.
"Presumably, this is a set-up for a Survivor Series match next month," speculates a Cageside Seats report. "All night, WWE was hyping an appearance by Taker there on the 25th Anniversary of his debut. Could he work with his brother Kane, similarly taken out by Wyatt a couple of years back, and maybe Reigns & Dean Ambrose, in a four-on-four showdown?" It'll be interesting to see if that is what really transpires. Maybe fans will get some clarity on Monday Night RAW.
Meanwhile, check out some of the fan reactions on the PPV event:
@StephMcMahon @TripleH loved #hellinacell but hated the ending it was so disgusting you should do something about that wyatt family

— Maloween (@Rotten2thecore9) October 26, 2015
Brock finally gets revenge for his wife from when Taker tried to sacrificed Vince's meal ticket #hellinacell pic.twitter.com/iYes7JUXRU

— Jake (@JakeDivaDirt) October 26, 2015
@thewadekeller Your WWE faces: No one can be bothered to save a legend from a beating.

— Jeric (@AznKnight613) October 26, 2015
Brock Lesnar and The Undertaker were men after an evening of boys. #HIAC

— WWE Creative Humor (@WWECreative_ish) October 26, 2015
The #Undertaker is STANDING...and receiving a STANDING OVATION! #HIAC pic.twitter.com/blorlzBYZ0

— RomanReigns (@Roman_Empire_76) October 26, 2015
The other big highlight of the event was the unlikely challenger - Alberto Del Rio taking hold of the future of the United States Championship by defeating John Cena.
I'm grateful for a 2nd chance to come back to @WWE #hellinacell and I'm happy to be performing again

— Alberto Del Rio (@VivaDelRio) October 26, 2015
With one swift kick, the #USTitle changes hands on @WWENetwork as @VivaDelRio defeats @JohnCena at #HIAC! #USOpen pic.twitter.com/QiANTa1j9n

— WWE Network (@WWENetwork) October 26, 2015
Del Rio was actually fired from the WWE back in August of 2014 for what they called "unprofessional conduct" after an "altercation with an employee."
As per reports, a social media manager had made a racist joke about Del Rio, and when the wrestler caught wind of it, he slapped the person (who hasn't been with the company since 2014 October). Reportedly, Triple H always liked Del Rio, and initially didn't want to fire him, so the WWE wanting him to return makes sense.