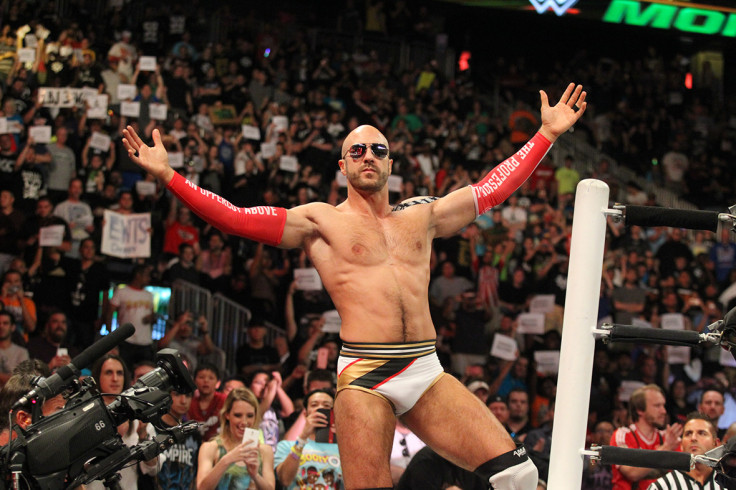 Save us, (Swiss) Superman!
You probably wouldn't want to see Cesaro sharing breakfast cereal with P Diddy or playing Pokemon with Scooby Doo - but in the ring, Cesaro has this whole WWE Raw business sewn up... and certainly more securely and stylishly than the rigged suits he rips away as part of his slightly off kilter 'Bond' entrance.
Going back to Draft week, the stop-start positioning of Cesaro as a major player within WWE programming seemed to be spluttering into life yet again as the 35-year-old standout made his displeasure with being such a low pick on the brand he did not want to appear on abundantly clear.
A pre-show pundit appearance at Battleground made it as equally clear - if doubt existed - his gripes were very much storyline, even if they did chime with many viewers' opinions about the gifted star.
But even though it appears the rug has been pulled from under Cesaro's feet time after time during his five years with WWE (remember the yodelling? The alliance with Paul Heyman when fans were clamouring - clamouring - for an uncomplicated dust with Real American partner Jack Swagger?), it is even clearer that in the choppy post-Draft waters he is anchor. But an anchor as a guarantee of quality, rather than a character that drags others down.
No surprise then that he was pressed into double-duty action on last night's Raw - a very choppy affair where the sliced and diced roster seemed a little stretched, even though the very talented likes of Finn Balor, Seth Rollins, Kevin Owens, Roman Reigns and Sami Zayn didn't actually lace up their boots.
As great as Enzo Amore, Big Cass and especially Chris Jericho are when it comes to spouting off (tip of the hat to 'Jon Bon' Jericho for dig of night: "You're more annoying than 'Achy Breaky Heart'), no one should be gobbing away for a 20 minute opening segment any more... especially if it doesn't set up a main event of consequence for later in the same show.
The result of his second, main event match - and the way that TV ratings are going in the US at the moment, probably the bout with fewer eyes on it - may have induced groans, particularly from those who overlook current nemesis Sheamus' committed power displays. But on the back of a, erm, relatively hot streak (two wins in a row!), and consistently excellent performances, Cesaro is the workhorse star on the rise again who can fill a top spot, no matter how hard he is flogged.
His energetic, walloping scrap with Sheamus was certainly the highlight of Raw, and the must-see match to watch if you only catch up with one match.
The WWE Raw headlines, with spoilers:
Chris Jericho and Kevin Owens - JeriKO, surely? - opened Raw for the second week running with Enzo Amore and Big Cass. A tag team clash was confirmed for SummerSlam.
New Day compared their SummerSlam tag title challengers The Club to Vanilla Ice while chatting backstage to P Diddy, WWE video game music curator, who had been hanging out with General Manager Mick Foley. Diddy enquired as to the condition of the absent Big E's nuts as he scoffed down Booty Os, leaving Foley in all of a fluster.
Braun Strowman's no hoper of an opponent for the week, Jorel Nelson, not only got a few moments interview time pondering what the heck he hoped to achieve going up against the brutish, gigantic former Wyatt Family member with Byron Saxton, he also got his own ring entrance. Company mainstays Darren Young and Titus O'Neil got neither in their directly following match.
Seth Rollins went in a bit of a curious in-ring promo direction, interrogating the etymology of Finn Balor's name (that included a video package potted history of Irish mythology from a besuited Balor) before concluding he himself doesn't need to make up a fake name - such as 'Rambo Apocalypse' - to be someone he isn't. Cue several thousands tweets addressed to Mr Colby Lopez at @WWERollins and many father-to-be viewers wondering if they can throw 'Rambo Apocalypse' into the naming hat.
"Yeah, I know who Randy Orton is, but I don't have a relationship with Randy Orton, nor do I give a f*** about Randy Orton," shrugged Brock Lesnar, as unruffled by the possibility of squaring off with one of the company's most established top stars as he might be by doing the same with Justin Bieber. Or even Conor McGregor.
Lana's face met wedding cake as Roman Reigns' SummerSlam date with Rusev was confirmed in perhaps the most preposterous storyline option available to develop the US championship bout.

It was around the point that Sasha Banks toppled Dana Brooke to ensure Brooke would not be in Charlotte's corner at SummerSlam it became clear the main event could very well be some bickering between the two very popular General Manager characters - not exactly the headline showdown WWE dreams are made of. Luckily, there will always be Cesaro (even if his positioning as a performer at the end of the show must apparently be traded off with the end of his mini winning streak).