WWE SmackDown reflections: American Alpha hopefully won't choke on commentators' high praise
Hype is absolutely vital - but the 'Roman Reigns effect' cannot be ignored
"This is like seeing Beyonce's first concert or Serena's first tennis match!" enthused John Layfield on commentary - seemingly on first name terms with the Wimbledon champ - as Eva Marie ducked in between the middle and top ropes to make her relatively grand entrance on WWE SmackDown.
"This woman can transform the women's division in WWE!" he continued, a statement apparently so unlikely it emboldened even newbie broadcast colleague David Otunga to politely suggest JBL may wish to "calm down".
Moments earlier, despite such high praise, viewers confirmed with their eyes that Eva Marie still had to look down when unbuckling the robe of her belt.
Not that there's anything wrong with a liberal application of hype.
And I wouldn't disagree that, having experienced the furnace blasts of antipathy Eva Marie receives from live crowds, she could play a pivotal role in prominent future storylines whether she suddenly picks up in-ring skills comparable to Manami Toyota or not.
And sure, maybe Layfield can put his 'bit of a reach' comments down to stirring a few extra sugars than might be advised into his pre-show coffee. But if so, partners Otunga and Mauro Ranallo were both drinking from the same cafetiere - and they weren't skimping on the Canderel either.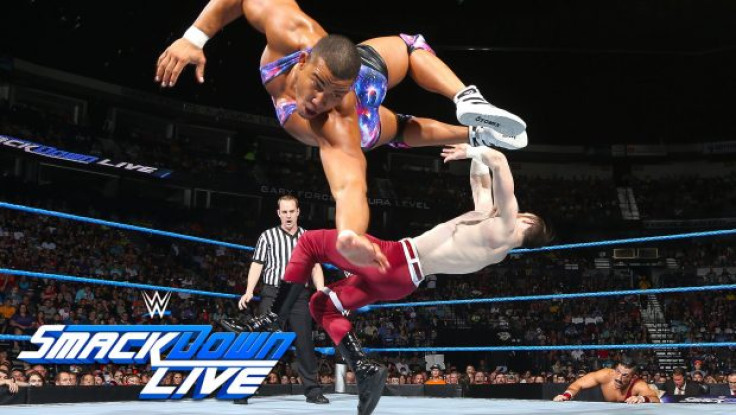 All snark aside, building up new talents like American Alpha - and even less on trend performers like Braun Strowman - in a super strong manner, whether that process bears any resemblance to reality (or likely future outcomes in accordance with the reality of wresting logic, or WWE's TV world) means sod all. After all, this is WWE. There is a sports narrative - but the entire conceit and construction is underpinned by performance.
So commentators should push stars to the moon. Wrestler puddings should be over-egged with raving tributes. But perhaps notes made during the dozen or so stop-start attempts to ensure Roman Reigns connects as a megastar should be looked over again. If fans feel what's being pushed down their throats doesn't quite taste right, more Reigns furballs could be coughed up.
American Alpha had a good SmackDown debut. It was a good exhibition match against the Vaudevillians where they were able to roll out their ring wares for an initial inspection and no doubt wider audiences will be buying in soon. It was good.
I might have been more excited about it being more than 'good' if daft comparisons to the Steiners hadn't been made before Chad Gable or Jason Jordan had even got in the ring. Another made between former Minnesota state champion Gable and another amateur standout, only Larry 'The Ax' Hennig, was uttered before the first lock up. Further references to The Rockers and 'the most anticipated tag team debut in memory' and 'future tag champs' followed.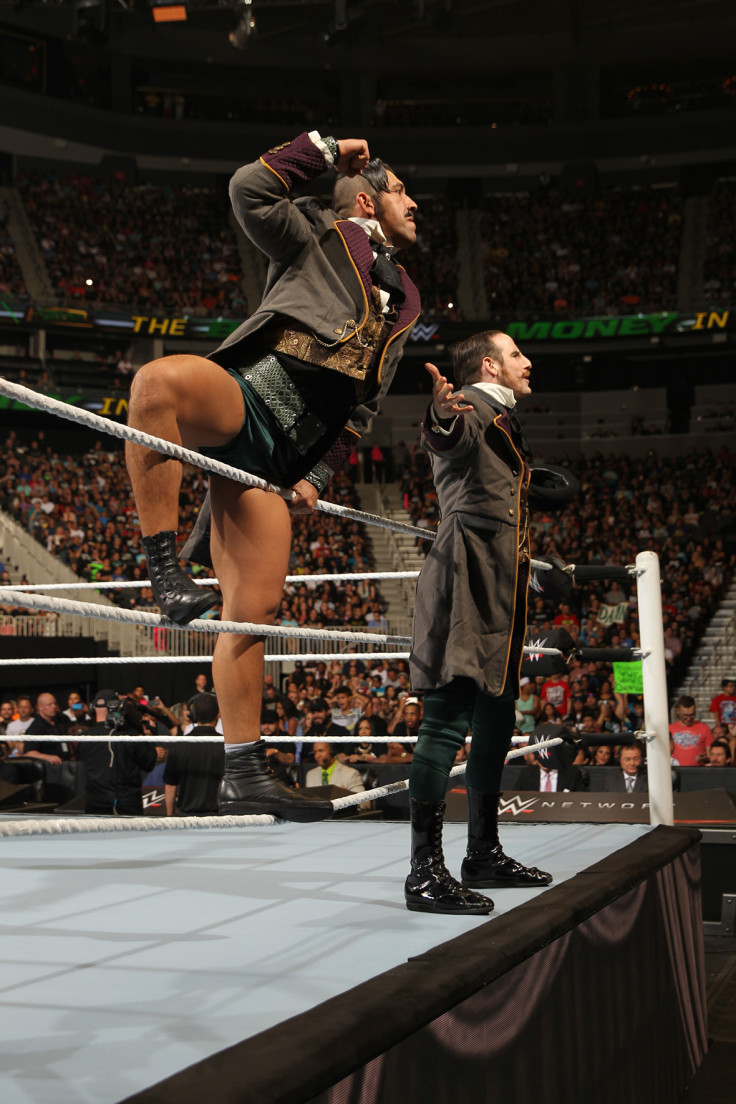 The Vaudevillains
WWE
As a side note, it was fairly hilarious when Mauro Ranallo, not to be outdone by Layfield's wander through wrestling history, brought up how the Vauds' act is a throwback to the likes of Frank Gotch, George Hackenschmidt and Ed 'The Strangler' Lewis. Equally as ridiculous.
Both Gable and Jordan need time to tweak their act and celebrations for the difference in scale between NXT and SmackDown. Let them breathe. They may need to do so in an actual sense, too, having both stuck their tongues out on numerous occasions, like panting pups.
On the enthusiasm flip side, the greatest moment of understated elation came from - who else? - that prime influencer Eva Marie. Featuring in an item about John Cena's recent awards show presenting gigs outside of WWE, she deadpan predicted during a red carpet chat about her colleagues' roles in a tone perhaps most appropriate for conversing with an automated phone system: "I think they're going to do amazing."
The WWE Smackdown headlines, with spoilers
Shane McMahon put Randy Orton on the naughty step for turning up at Raw to smash Brock Lesnar with an #RKOOuttaNowhere, but didn't go as far as sending the Viper up to his room to think about what he'd done.

WWE World Heavyweight champion Dean Ambrose bantered back and forth with SummerSlam challenger Dolph Ziggler in a passive-aggressive fashion that became increasingly aggressive to the point Zigz vowed to 'burn down Brooklyn'.

Bray Wyatt, appearing after the house lights flickered on and off, decided to introduce Dolph to his Sister Abigail, prompting the number one contender to agree to put his title shot on the line in the main event against his hirsute attacker.

Apollo Crews - not Apollo Creed, Daniel Bryan - bagged an Intercontinental title opportunity against Miz at SummerSlam by beating Kalisto and Baron Corbin, but it was Corbs left standing tall.

Eva Marie may never actually wrestle on SmackDown if her gimmick becomes '1001 ways to avoid locking up with an opponent'.

American Alpha like sticking their tongues out when fired up.

John Cena promised to teach AJ Styles a lesson at SummerSlam after furiously insisting he was in WWE "for love", questioning AJ's motivation.

Orton was smooshed with a #F5OuttaNowhere as Brock Lesnar returned the favour during Randy's match with Fandango.

Natalya's Sharpshooter assault on Carmella at ringside and walkout before their match began ensured there were 0 minutes of women's wrestling on SmackDown in week 2 of the New 'New Era'.

Dolph and Dean could end up as odd couple tag partners opposite Bray and Erick Rowan before their title showdown, after shenanigans broke out following the main event.
© Copyright IBTimes 2023. All rights reserved.