Ten years ago today, on 14 March, 2002 the original Xbox was launched in the UK and to celebrate, Microsoft has created an interactive timeline highlighting all the major milestones of the past decade.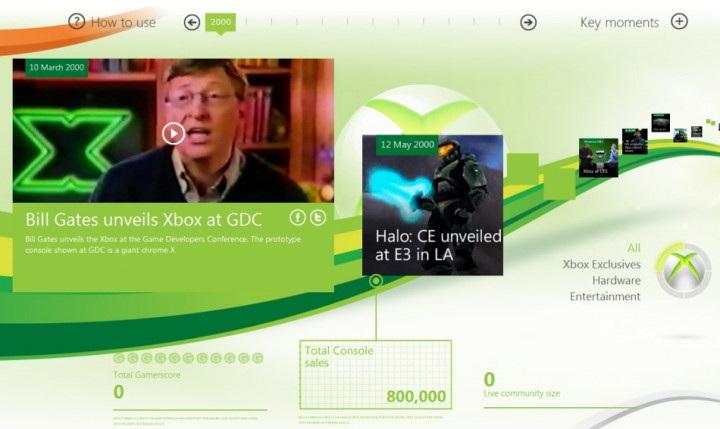 10 Years of the Xbox:
24 million original Xbox consoles sold
66 million Xbox 360 consoles sold
18 million Kinects sold
40 million Xbox Live community
2.4 million Xbox Live players online at once
7.8 billion achievements unlocked
It was even more than 10 years ago that Bill Gates first unveiled the Xbox at GDC in 2000, ahead of the initial launch on 1 November, 2001 in the US. It was five months later before the Xbox came to the UK by which time it had racked up sales of almost 2.8 million units.
Later that year Xbox Live launched and the community reached 350,000 by March 2003 and hit the million mark in September 2004 - it has more than 40 million members today. By the middle of 2003, over 10 million Xbox consoles had been sold.
It was in late 2005 that the Xbox 360 was first launched, with the original Xbox finally retired, having sold a huge 24 million units. The Xbox 360 had sold 15 million units by the time Microsoft announced Project Natal in 2007, which was to become the Kinect.
The Kinect would go on to become the fastest selling piece of consumer electronics of all time, with 10 million units sold within five months.
Among the long list of milestones are some of the games which helped make the Xbox platform so popular, including the Halo series, Fable, Forza Motorsport, Gears of War, Project Gotham Racing and Kinect titles like Kinect Dance Central.
There were, naturally, also some missteps during the decade including the Xbox 360 Messenger Kit launched in 2007 which attempted to combine a keyboard and controller in one. Also launched in 2007 was the Big Button Pad which resembled game show buzzers but didn't really take off.
But however you look at it the numbers are incredible and with the rumours about the Xbox 720 growing, we are already looking forward to celebrating the 20th anniversary of the Xbox.