Xbox Live Gold members to get Tomb Raider and Crysis 3 for free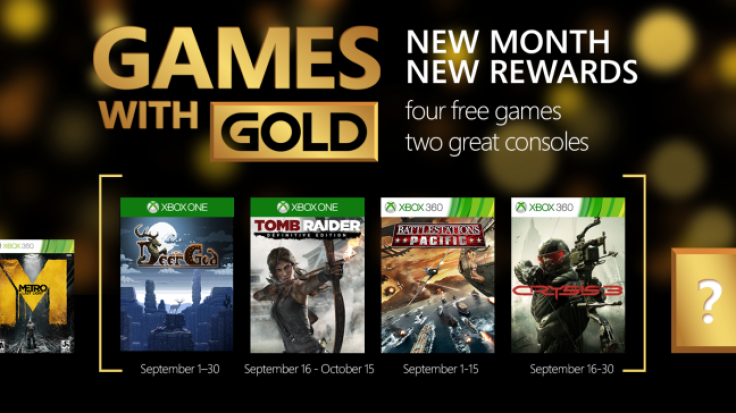 Xbox Live Gold members are in for some exciting news, as the Games with Gold programme will bring Tomb Raider and Crysis 3 game titles for free on Xbox One and Xbox 360 in September. These titles will be part of the monthly free games offer that will come with a permanent licence.
According to a blog post from Major Nelson, two each of Xbox One and Xbox 360 titles will be up for grabs throughout September, as an exclusive offer for Xbox Live Gold members. Avid Xbox One gamers can take away The Deer God as one of the free-game downloads during the offer period between 1 September and 30 September.
Gamers will stand a chance to save $14.99, which is the suggested retail price for this game title. The game is designed with compelling pixel art techniques in a 3D environment and based on the Adventure/Survival genre with its focus on morals and survival within nature, according to Neowin.
Tomb Raider: Definitive Edition ($29.99) will be the second game on offer for free download from 16 September to 15 October. The Definitive Edition clearly translates to 1080p or full HD graphics with stunningly beautiful gameplay that also includes downloadable content packs and updates in a single package.
On the other hand, Battlestations Pacific ($24.99) and Crysis 3 ($19.99) will be available for free download on Xbox 360, during the first and second half of September respectively. Battlestations: Pacific will be an improved version with more advanced combat options and real-time tactics than its predecessor, Battlestations: Midway. It will also feature support for both single and multi-player campaigns with two-story mode campaigns and a total of five game modes.
Crytek's Crysis 3 will continue the super-human capabilities of the new nanotech-based commando suit that is custom-built for stealth kills as well as sabotage. It has special features like active camouflage, enhanced strength and improved armour.
© Copyright IBTimes 2023. All rights reserved.