Xiaomi resumes MIUI 6.5.5.0 (LXIMICD) OTA update for Mi 4i: Changelog and download link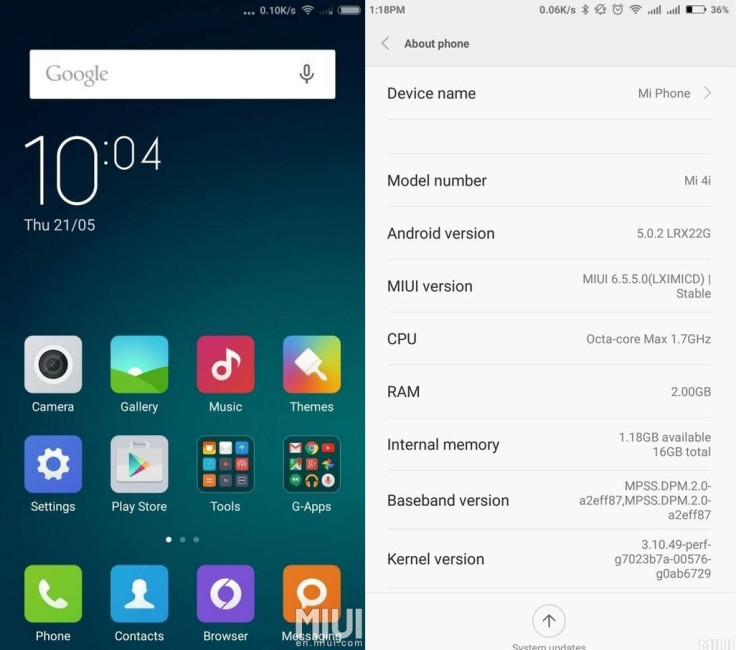 Xiaomi has resumed the over-the-air update, which brings MIUI v6.5.5.0, for the new Mi 4i smartphone starting 26 May.
The announcement has been made by Xiaomi vice president Hugo Barra, who says that this is the first major update for the Mi 4i since its launch in April.
"We've heard from some Mi 4i users that their devices can get warm under more strenuous conditions such as complex 3D gaming for extended periods of time. To address these concerns, we've optimized our thermal control algorithms to better regulate the temperature. The new thermal controls adjust frequency, voltage and the number of cores in use depending on the chipset temperature," explains Hugo Barra in a release note posted on Facebook.
Last week Xiaomi released an OTA bearing build version 6.5.4.0, but it was pulled out due to some issues relating to the power button, which has been fixed with the new firmware. The update will continue rolling out to users through this week.
The following is the rundown of changes added in the ROM MIUI V6.5.5.0.LXIMICD.
System
Optimisation - Optimised device temperature controlling parameters (05-14)
Fix - Poor speaker quality when audio volume was low (05-12)
Fix - Some earphones types were recognised incorrectly (05-12)
Phone
Fix - Sometimes, calls could not be made when there was only one SIM card inserted (05-11)
Home screen
Fix - Apps' names and images did not match when they were displayed in card mode in Recents page (05-11)
Camera
Optimisation - Unified animations when switching between front and rear camera using gesture and icon (05-12)
Optimisation - Optimised exposure time icon (05-12)
Fix - Select/cancel icons and flash/hdr/switch cameras icons displayed simultaneously after third party apps used camera to take videos (05-12)
Fix - Shutter speed was incorrect (05-12)
Head over to the MIUI forum to know more about the update. A download link for the update is also available for those who wish to manually update.
Download link: Mi 4i MIUI Global Stable ROM V6.5.5.0.LXIMICD
© Copyright IBTimes 2023. All rights reserved.