Sony's newly released, Xperia Z1 draws attention with its 20.7 megapixel camera which uses the award-winning G Lens and the powerful Snapdragon 800 chipset featuring a quad-core processor clocked at 2.2GHz.
With a thickness of just 8.5mm, the slim Xperia Z1 packs a bigger 3,00mAh battery. Besides, it features Battery Stamina Mode, Sony's unique battery management technology which improves standby time up to four times or more by closing the power-hungry apps when the screen is off and starts them up again when the screen is turned on.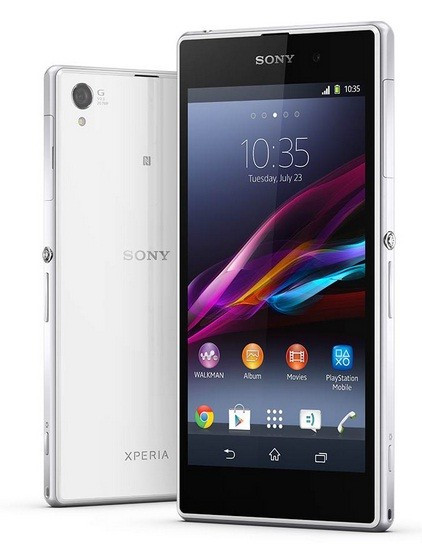 Now GSMArena has conducted a range of battery tests revealing the battery performance of the Xperia Z1 in individual field.
The Xperia Z1 outlasted all rival smartphones in the talk time battery test and took the lead spot with an impressive talk time closer to 27 hours (26 hours and 53 minutes). Sony's new handset even outperformed official talk time rating, which is as noted by Sony, is up to 14 hours. Huawei's large-screen smartphone, Ascend Mate, which uses a huge battery of 4,050mAh battery, was approximately one and half hour behind the Xperia Z1.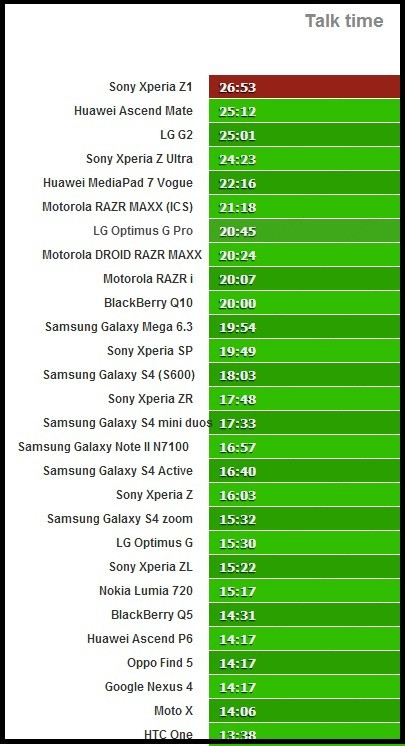 The web browsing battery test was not equally impressive as the talk time. The Xperia Z1, in the web browsing test, stayed for five hours and 59 minutes before its battery drained out. This is almost five hours and 23 minutes less the web browsing of the newly announced LG G2, which was the winner in the same test. Sony's another Z series handset, the Xperia ZR running with a 2,300mAh battery, jumped to the seconds place with a talk time up to 11 hours and 20 minutes.
There is barely much difference between the web browsing and video playback time of Xperia Z1. It ran slightly over than six hours (six hours and 12 minutes) in the video playback test. Motorola's Razr Maxx running Ice Cream Sandwich occupied the first position with longest video playback up to 16 hours and 35 minutes. The X-Reality display of Xperia Z1 marks a notable improvement over the earlier Sony screens, but playing a two-hour movie on it will consume one third of its battery.
The Xperia Z1 performed pretty good and scored an endurance rating of 53 hours, which is enough to run for a couple of days with medium usage.
The Xperia Z1 shows improvement over the Xperia Z in two aspects; first 11 hours of longer talk time and five hours higher endurance rating than the Xperia Z but have almost similar web browsing and video playback life.